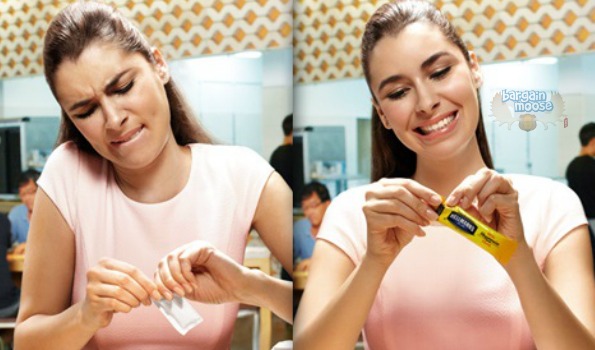 Unilever is giving away freesamples today of its famous mayonnaise in a new single-serve stick packaging. Head on over to grab your freebie before they are all gone.
Mayonnaise is not my favourite condiment, but I know so many people like it. I was at a friend's house who was watching her weight for a vacation. She skipped out on a delicious mini croissant for her sandwich but could not skip the mayo! If you have a love affair or at least a casual friendship with mayo, you should send away for this free sample.
There is a catch with this freebie. It states on the Unilever website that this sample is for verified business addresses only. I am an independent contractor, so my home address technically is a business address also. You may want to consider sending this freebie to a business location or the order may be cancelled. Fill out the form with your info. Once you submit, you should receive a confirmation e-mail within a few minutes. Unilever states in that e-mail that they will check your submission, and send out your sample within two weeks
These packets of mayo are compact, but they have more mayo in them than the average packet of mayo. They also are much easier to open than your typical small packet of mayo.  Those tiny ketchup style packets never have enough mayo in just one packet for a sandwich and I always end up with at least one packet that explodes across my daughter's plate. I have had these new mayo packs included on my plate alongside a hamburger I ordered when visiting the states. My condiment-loving husband went on about how amazing they are for weeks. Well honey, they have finally arrived in Canada!
These would be handy to throw in your picnic basket this summer. When you add the mayo to your sandwich ahead of time, I find the sandwich can get soggy. If you apply the mayo right before you eat, the sandwich tastes so much better. If you cater parties, these would also be great alongside a buffet. I imagine these would be much less messy than a bowl of mayo on a buffet. Being the odd person who does not care for mayonnaise on my sandwich, I am always grateful when the condiments are served on the side to indulge my pickiness. Grab your free sample of a great product now before they are gone.
(Expiry: Unknown)