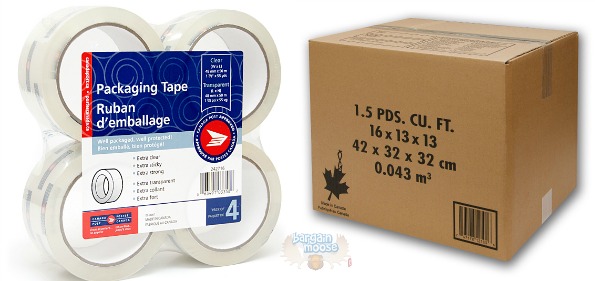 This is the first time I think we have ever blogged about moving boxes. So let us chalk up plus one for greater variety! Canada post is offering 20% off moving boxes with free shipping on orders of $25 or more.
I know. Usually when you move, you raid the alley behind the local liquor store and there you go - boxes. However, some of us are not lucky enough to have a local liquor store that is negligent enough with their boxes or to have a local store at all. When you are moving, you must have boxes so sometimes you just have to buy them. Enjoy 20% off the following boxes.
Moving Box – 1.5 cu ft - Was $2.49 | Now $1.99 (minimum order: 15)
This box is perfect for moving small but heavy objects that you do not want to break your back. These are ideal for books, CDs, and DVDs. I would even use these for heavier dishes as stoneware and earthenware can get quite heavy.
Moving Box – 2.0 cu ft - Was $3.25 | Now $2.60 (minimum order: 10)
Pack these full of clothing, dishes, and feel free to wrapping your clothing around the dishes as it saves on finding newspaper and works as a swell packing material. Try towels too, they are wonderful for packing fragile items.
Moving Box – 3.1 cu ft - Was $4.25 | Now $3.40 (minimum order: 10)
I consider these boxes your 'dump everything in and hope it works out' boxes. they are large and you can really stuff them full. I would probably shove my husband's huge stack of photo albums in one because they cannot be that heavy... and load another full of linens, blankets, decorative cushions, and more.
If you are going to get boxes, then you also need tape! Thankfully, this Four Pack of Packing Tape is also on sale right now. Originally $7.99, the tape is on sale for $6.40. You will need it for taping the bottom of the boxes shut and then taping the tops closed as well.
They also have this Hand-held Stretch Wrap on sale for 20% off as well. This is useful for wrapping up larger items that you cannot box. Use it to wrap standing lamps, couches, and your mattress so they are not damaged in transit. Originally $19.99, a roll of wrap is now $15.99.
After moving, resell your boxes on Kijiji or Craigslist to make back part of your money.
Receive free shipping on orders of $25 or more.
(Expiry: Unknown)