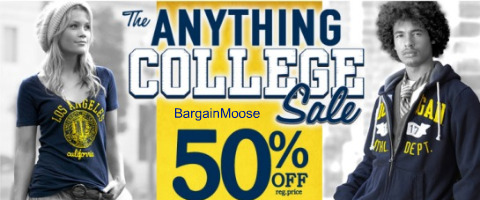 We know Campus Crew is really only Ontario, but Ontario has such a large population (and I am guessing a decent amount of Moosers) so we like to post about them anyway. We hope they expand to other provinces in the future.
Campus Crew is having a 50% off 'anything College' sale. That includes hoodies, tees, fleece bottoms, capris and more.
Last time we posted about Campus Crew, Mooser Jenn shared these words with us:
There is a Campus Crew near where I live, I've been shopping there like crazy ever since they opened this past year. Personally I love it – the clothes are varsity style, lots of preppy sweatshirts and pants featuring USA university/college logos (ie: Texas Longhorns, UCLA, Notre Dame, etc…). They are very comfortable and fit larger than most stores like American Eagle or Abercrombie.