Here's a great deal for you guys who like shopping @ Buffalo David Bitton Canada! They're do a whopper of a free printable coupon, giving us a 40% discount on their clothing in-store! They emailed the coupon to me this morning, so I have saved it for you all to print out and make use of it. It does say it is for family and friends, and you Bargainmoose readers are my friends!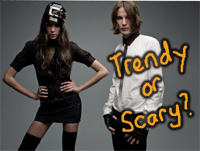 Click here to print out your free Canadian coupon for David Bitton Canada.
Click here to see the Buffalo Jeans store locator.
The coupon is only valid between the 25th and the 29th of March 2009. Unfortunately, the free online coupon is for regular priced merchandise only, and doesn't apply to sale items. I have to say, their website annoys me. It's got one of those annoying flash interfaces, that's trying to be all funky and trendy. This fails miserably by the fact that the website is slower than Mr Slow in a "Who's The Slowest" contest.