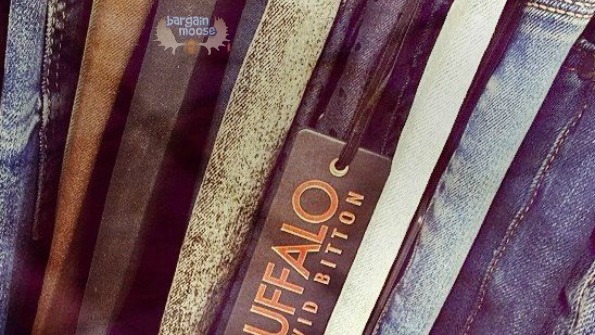 If you want to get something from Buffalo Jeans, but were waiting for a free shipping deal, your time is now. Every Tuesday in October, Buffalo will give you free shipping with no minimum. Normally, you'd need to spend over $99 or pay a $10 shipping fee, so this is perfect!
Since today is Tuesday, you can shop today, or you can wait until next Tuesday, or you can do both and see what hot deals they have today and next week.
This week, you can pair this free shipping deal with the current deal they have on right now, which is buy two, get 20% off and buy three and get 30% off. This is on regular priced items and doesn't include denim or boy's items.
Or you could pop over to the sale section and see what's brewing for hot deals. I found myself these very cute purpy Faith jeans, that were $89, now $65.99. I love wearing pants that are not typical colours like this bright and flashy purple. In fact, I'm wearing red pants right now very similar to these.
I always by my man underwear for Christmas, since he rarely buys it for himself and he needs it. It also means I get to pick how sexy I want him to look and these boxers definitely look sexy! Regularly $28, they are now only $14.99. What's great is that I can buy just these boxers and get them shipped for free. Tomorrow, I can't do that. If that style doesn't do it for you, there are quite a few others, all now $14.99 and all just as sexy (and supportive).
Having three boys, I had to look at the fairly new boys section. I like my boys to look good every day and since teaching style is a parent's job, I need to buy them clothing that represents this. I love this Jagger jean jacket in a dirty sanded look. It is not on sale right now at $69.50, but it will ship for free.
Even if you shop today, don't forget to check back next Tuesday for any new deals that may have popped up to pair this free shipping deal with.
(expiry: 14th October 2014)