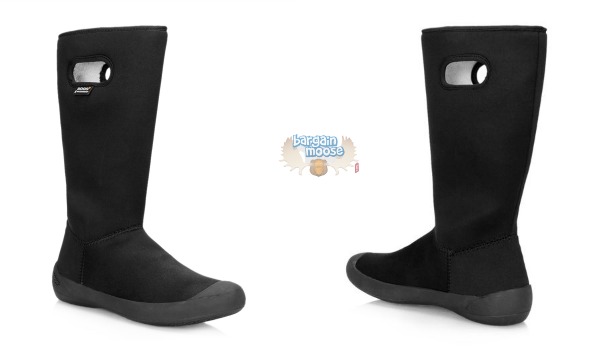 Get your Bogs on for spring and winter, with a regular price of $110, now only $79.98 at Brown's Shoes. They've also got a coupon code that will get you free shippingon all orders. Just use couponGETTHEM15 at checkout and instead of filling your cart up to $198 to get free shipping, you can just fill it as you'd like. If you weren't going to fill your cart to that $200 line, you'd pay an extra $5 for shipping, so your grand total of savings for this deal is $35.
I really don't think I've ever heard a bad thing about Bogs. The parents who I know who have them for their kids say they are fantastic - warm in the winter, waterproof in the spring. I balked at the price for kid's boots, but I wouldn't think twice paying $80 for my own boots. I guess that's because I have kids boots to buy times three. These boots are for ladies and I think they look great. Brown's site doesn't say much about the boots so in doing my price comparisons, I found a bit of information.
Where they sell for $110, Bogs Footwear states that they are a cozy waterproof winter boot. They are easy to get on and have soft fold-down fabric. I love the fact that you can throw them in the washing machine. So many times my boots get grimy after being out in the slushy parking lots and there is not much I can do but wipe them down with a paper towel. Being able to toss them in the washing machine is super. I see that they are only rated to -10, which is actually not very cold compared to what we've been getting in January and February here. I think either you ply on the extra socks or you expect to wear them in September to December and March to May.
I also found these boots at Sportchek, where they sell for $109.99 and ShoeMe for way more than the regular price, where they sell for $145.
(Expiry: Unknown)