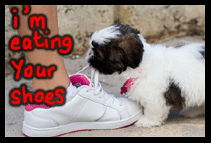 20% Discount Of 1st Item
30% Discount Off 2nd Item
40% Discount Off 3rd Item
So this deal is on right now at The Shoe Company Canada, but it will expire on the 26th of December. It applies to sale shoes, boots, clothing and bags. I'd recommend bringing in a friend or two with you and everyone buy lots of shoes and get oodles of discounts!! Here's the store locator if you want to find your nearest shoe store.
P.S. Click the "boxing sale" tag below to see more boxing day deals that I have spotted.
Thank you for the piccy Sandi Marie!