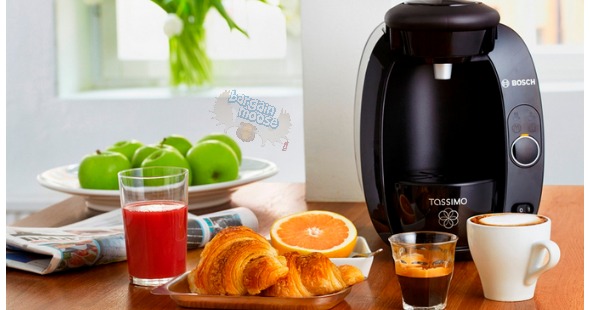 Wake up and smell the coffee, but don't wait until the morning to snag this deal. Amazon Canada promotions sometimes end real quick, so if you're in the market for a Tassimo Home Brewing System then grab this one. This Bosch Tassimo T20 Home Brewing System can be picked up for just $59.99 right now @ Amazon.ca. This is 65% off the previous price which was $169.99. You'll get free shipping too.
While you may have spent a good portion of your time searching for an affordable and compact coffee maker, the solution is right under your nose. You can shop at Amazon.ca and take 65% off this Bosch Tassimo T20 Home Brewing System for just $59.99. This brewer will allow you to have a perfect beverage every time, just at the touch of a button. Tassimo has T-Discs for many delicious beverages like coffee, tea, hot chocolate and even iced beverages. I am very thankful for my Tassimo brewer, especially on busy mornings when all I want is my caffeine fix. This brewer only makes one cup at a time, so you'll no longer have to waste the rest of the pot of coffee if you don't drink it all.
I did do a little price comparison on this Tassimo product, just to make sure this is the absolute best price. Here is a look at what other Canadian retailers are selling the Bosch Tassimo T20 Home Brewing System for:
While Tassimo says that there are no taste transfers between drinks, I have to disagree. If I make tea before hot chocolate, I can slightly taste it. Also, if I don't clean my machine often enough, it gets a metal taste. I would suggest using the provided cleaning T-Disc every once in a while to clean your machine to prevent this. This particular Tassimo model has a 1.5 litre water tank, so you won't have to refill the water whenever you make you and your partner a drink. There are many excellent reviews on the Tassimo machines, but many also complain that there are not as many flavours available as the Keurig has. Are you on the Tassimo or Keurig team?
Unfortunately only the black version of this brewer is on sale. The white model is the regular price of $169.99. I find black will look better with other appliances anyway. Amazon will also throw in free shipping since this purchase is over $25.
(Expiry: Unknown)