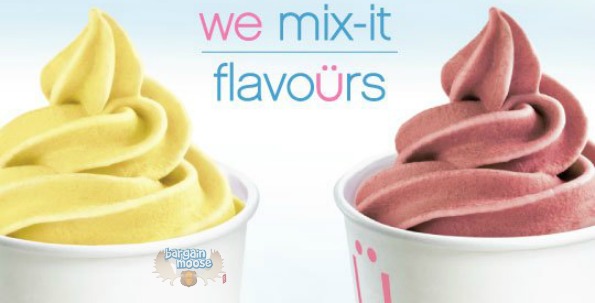 Next weekend we have both Valentine's Day and Family Day to celebrate. One of my favourite and my family's favourite things to do is get frozen yogurt. I try to stay on the healthy side, the kids and hubby try to pile it with lots of treats. Either way, it is fun to get and yummy to eat. I found out about some buy one get one free deals this week for those celebratory days and thought I'd pass it on to you.
Yogurtys has a buy one, get one 50% off deal going on from the 10th until the 17th of February. They are a self-serve yogurt place, which is what I love, with over 150 total flavours in low-fat, no-fat, dairy free, tart or sherbet. My problem is always that I can't ever pick just one, which is why self-serve is great because you don't look like an idiot asking for a little bit of this and a little bit of that and that too, oh and that one too. You just serve yourself and be happy with your choice.
If you prefer to be served rather than serve yourself, Yogen Fruz will do that for you. They can custom mix the flavours you want and they even have greek yogurt, which is really high in protein. They are also offering buy one, get one 50% off from February 10th to the 17th.
Those are the two deals I found, although I can bet other local stores in your area will offer some deals too.
(Expiry: 17th February 2014)