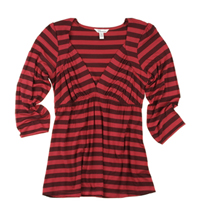 Would you like a 50% discount on your clothing order from BlueNotes Canada? Check this out:
Where

: Online @ Bluenotes.com

Discount

: 50% off clearance

Coupon Code

:

clearance50
Expires: 29th March 2009
OK, I'll admit there's not an awful lot to choose from in the clearance section, but it's worth a nosey to see what you can find.
I quite like the "Flirty Stripe Sweetheart Top" (pictured top right), which is showing at $9.98. With our coupon code, you can get it for $4.99! I've shown it in the image to the right. I really like black and red combo tops, they go really well with a plain pair of blue jeans.
Speaking of jeans, there's a good offer on their "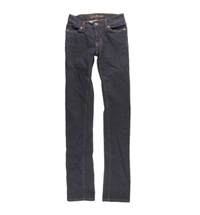 Regarding shipping from Bluenotes, it's a wee bit expensive, so it might only be worth it if you're making a slightly larger order. Perhaps you and your mates could have a look, and make a bulk purchase? Shipping starts at $8, and depends on how much you are spending. It works on the principle of the economy of scale though – the shipping cost per dollar expenditure decreases the more you spend. Hope that made sense!!