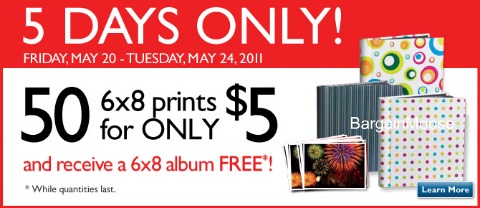 If you've got a backlog of photos on your digital camera or computer, time to print them off with your choice of sales from photolab.ca or Black's.
At Blacks you can get 50 6 x 8 prints for only $5. You'll also get a free 6x8 album until the 24th, May 2011. It doesn't look like the price has been adjusted online, expect it to be adjusted in store when you pick up your order. The regular price of 6 x 8 prints is $0.39 each, so for 50 prints, you'll save $14.50.
At photolab.ca, get 4x6 prints for 10 cents each at until 26th May, 2011. You must order a minimum of 100 prints.
I've always been happy with the quality of prints at photolab.ca, yet photographers I know always recommend Blacks when printing photos.