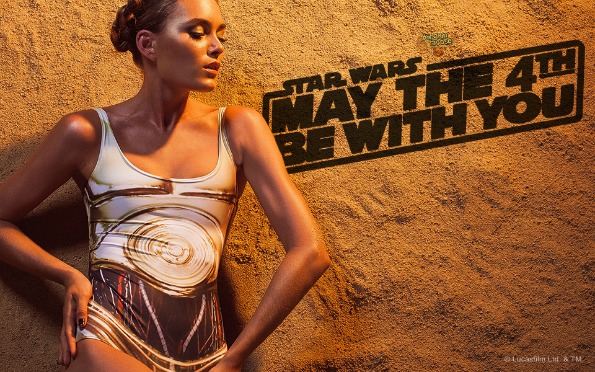 Black Milk Clothing is an Australian company that has quickly developed a cult-like following. On this May the 4th, get 30% off (prices as shown) their licensed Star Wars clothing (excluding shooters) that is to die for.
A little clarification on terminology so you don't think I have gone a little screwy: nomming (or 'to nom') is what fans of Black Milk do when they purchase Black Milk Clothing. Fans of Black Milk are called 'Sharkies' because of their awesome nomming skills that crashed JL's server back when Black Milk was just a wee company of shiny nylon goodness. Before the Star Wars, Harry Potter, and Game of Thrones releases. Just saying.
Black Milk Clothing is my holy grail of clothing stores. I wear an item from Black Milk about five out of every seven days of the week. I may not be a huge Star Wars fan but I have had my eye on this Artoo Swimsuit ever since I found the company. The swimsuit originally cost $100 and I just bought it (OMG so excited I am!) for $70 AUD (works out to around $72 CAN).
I was sorely tempted to buy these Star Wars Montage leggings because they are just... AHHHHH! The best!! Get all your favourite characters in one set of hot and high quality leggings. Originally $85 they are now on sale for $59 AUD.
The Australian dollar and the Canadian dollar are pretty close to each other: CAN $1 = AUD 0.982. You also get free shipping on all orders to Canada but you can be subject to duty. Some suggestions from an old pro:
Order each item separately
Choose free standard shipping
Exercise patience young padawan. I have waited anywhere from 4 - 8 weeks for my package to arrive.
Now go get some awesome gear. If you do buy anything, leave me a note in the comments telling me what you get! I would love to know.
(Expiry: 5th May 2014 7pm EST)