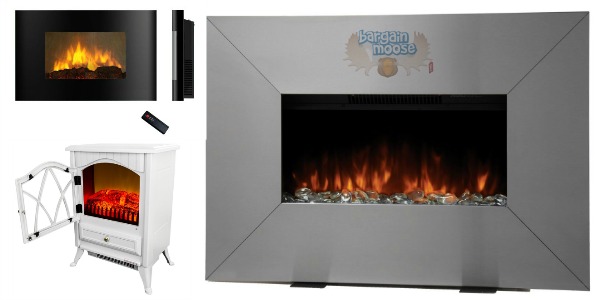 This fireplace is perfect for chilly nights at the chalet, or to just plan ahead for fall. The Bionaire LED Electric Fireplace was $329.99 but now is $120.03 @ Amazon.ca. Free super saving shipping is included with this order.
As I was writing this post, the above fireplace was showing at $96 but it instantly jumped up to the $120 price. That was a shame... but the $120 price is still really excellent (just not quite as excellent as $96!).
I looked out the window this morning and we finally have baby leaves hanging from the trees. While I do not really want to think about a time when those leaves will be gone, I like to prepare for winter without paying retail prices. If your summer chalet is away in the woods, you might need a little fireplace like this to warm it up in the evening. We have friends who live at their chalet all summer near the lake. They stay through early fall, and this fireplace would be perfect for them as the nights start to chill off a bit in September.
Now is the time to jump in this Bionaire 40 inch LED Electric fireplace. This is a wall mount unit made of stainless steel that can also be installed in a base to sit on the floor. You have three different flame patterns to choose from to set the mood in your room and a host of safety features to keep it from overheating. This also has two different heat setting plus a fan only setting to help circulate the air out the front of the unit. Best of all, this flat unit packs away easily in storage if you want to conserve space in your living room. With a real fireplace hearth, there is never an option to pack it away in storage when you want more room for a party.
There are not many models of fireplaces advertised right now, but electric fireplaces are available to purchase. At Costco Canada, I found a smaller Bionaire electric fireplace for $199.99. Home Depot Canada has a similar Bionaire wall mount unit this is also smaller selling for $299.99.  Lowes Canada has a comparable wall mount unit that by Modern Homes for $299.99.
There are also some other electric fireplaces on sale today if this one is not your style. Check out the vintage looking AKDY 16" Retro-Style Floor Freestanding Electric Stovethat retails for $399.99 but is now only $109.99. I was not able to find this model sold elsewhere, but it sure does have slick style. You can pick it up in white, black or with a wood finish.  The AKDY Wall Mounted 36" Unit with Remote (select is also a good deal today. This unit is retailed priced at $899 but is now $159. This set has a little more realistic look with fake logs at the bottom of the unit, and you can control everything with a remote.
Think of this as an investment in your heating for next winter. A small unit can quickly warm a single room without driving your heating costs up. Pick your stylish fireplace now. I do not expect these units to stay at this price for long.
(Expiry: Unknown)