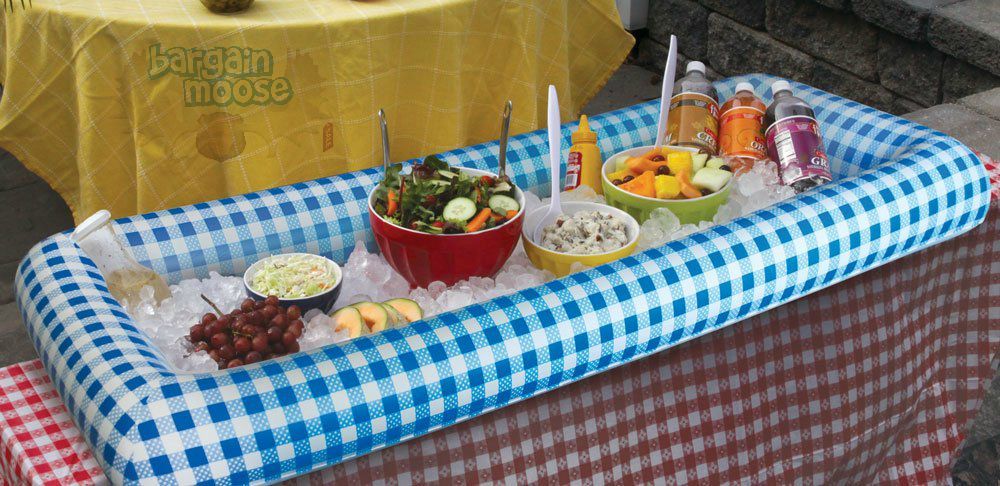 My family does a lot of picnics and barbeques through the summer months. I never thought I would find this perfect invention! Big Mouth Toys has created the Inflatabuffet and has it for sale on Amazon.ca for just $19.99. Plus, if you spend $25 you will get free shipping.
Everyone wants this convenience. To be able to inflate a perfect little table to keep food and drinks cold during picnics, BBQ's and more. Now you have it, and for just $20 at Amazon.ca. The Inflatabuffet will be the talk of your picnic for sure. Big Mouth Toys was smart with this one, and they have created the perfect inflatable cooler/tray for you and your family. This Inflatabuffet can be used as a buffet or salad bar at parties (perfect size for a tail gate I would think), picnics, or even trips to Canada's Wonderland or the Zoo where you go back out to your car to eat lunch. The Inflatabuffet is available in white instead of the blue and white checker pattern as well. The white one sells for $20.45 though I personally like blue one better.
There are plenty of great reviews on this product. Although I am confused about just one thing. Some reviews say that the Inflatabuffet has a drain to release the liquid after use, while others say that the Inflatabuffet does not have a drain. I think either way this is a great item for the summer. It takes just one bag of ice to fill it up, and  when you are done with it for the day it doesn't take up much storage at all. One comment says that they were able to fit a few fruit & veggie trays as well as some drinks and a watermelon tray. There is bound to be enough space for what you need, and if not... snag two :)
I would suggest placing your containers of food on top of another empty container (margarine or cool whip container perhaps) so that water does not get into the containers once the ice starts to melt, since the level will rise. Now, Amazon.ca offers free shipping on orders over $25. So maybe you want to snag one for a friend, or find another small filler object. The choice is yours.
Moosers, what will you use your Inflatabuffet for?
(Expiry: Unknown)