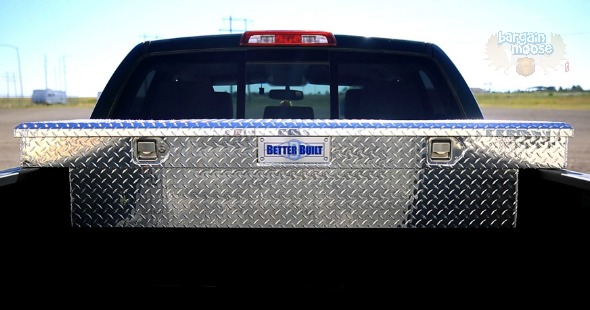 Pickup trucks usually go hand in hand with tools and other handy accessories. If you have been looking for a perfect way to organize all of your tools for at home and on the work site, then this might be your solution. The Better Built 70" Low Profile Truck Box is on sale from $288 down to just $99 at Walmart Canada. You will even get free shipping. Now your men will have no excuse for their tools being allover the back seat of the truck (personal pet peeve!).
Do you drive a pickup truck? I drive a pickup truck. There are a variety of tools and small items I normally keep in the back of my pickup, and it can be annoying to hear them slide and rattle around while you are driving. If you were to install this Better Built 70" Low Profile Truck Box, then your problem would be solved. This truck box would have normally cost you $288 from Walmart.ca, but right now it is on sale  for just $99.
This Better Built 70" Low Profile Truck Box is great for tools and any other items you may want to lock safely in the back of your truck. This tool box is constructed with aluminum, so rust is not in your near future. As a matter of fact, the tools and items inside are safe from water as well since the lid is sealed and weather resistant. The low profile design also ensures that your rear-view won't be blocked while driving. I find my Back Rack obstructs my rear-view a little bit.
Have a tool in your hand and need to get into the toolbox? No problem. The lid of this Better Built 70" Low Profile Truck Box will automatically lift when you open it, so you don't have to worry about using both hands. Inside you will find 5 compartment trays to help keep you organizes. Although, if the man in your life is anything like mine, he probably won't keep it all that organized.
The box measured 69 inches long by 20 inches wide by 14 inches high. The 69 inches is the top of the box. The lower measurements of the box are just 60". So ensure that these measurements will fit your truck bed before making the purchase. Don't take too long though, this deal won't last long at this price. Walmart Canada even offers free shipping on orders over $50, so you won't have to worry about those extra fees either.
(Expiry: Unknown)