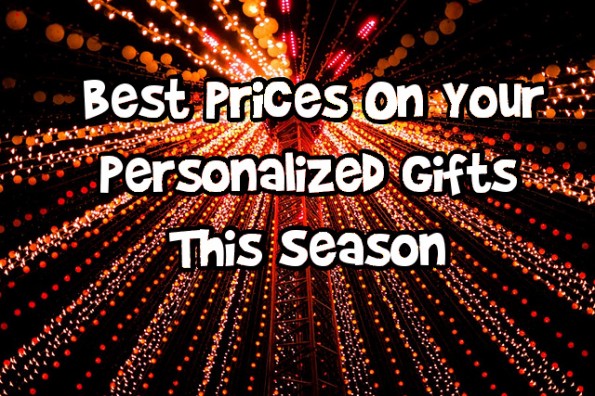 If you are anything like me, Christmas is a time to give gifts that are special. With our rushed schedules, many of us don't have time to DIY or craft a gift for a loved on. Enter in specialized sites that allow us to personalize gifts so they are special and unique, but we don't have to make them with our own bare hands. But, personalized gifts can get pricey, so I've compiled a list of the lowest prices for each individual gift!
This took me honestly hours of research to find what store had the best prices on each item, plus it has also cost me a few $$ as I bought my favourites! At least I got a few gifts crossed off the list. Its good to start these sort of gifts early, as it might take you a bit to design the gift and then get it shipped.
Calendars
Calendars are a useful and thoughtful gift. I got one last year from my sister-in-law with all of our family's photos, plus all the special dates already penciled in. That was not just super helpful, but I'd much rather look at the smiling face of the Websters than a milk recipe all month.
The best deal I found on calendars is this one from Picaboo. For only $9, you can create one custom 11x9 calendar. If you want to create more, you can for an additional, but well-discounted price. This is by far the best deal I found on calendars, with prices usually around $15-$20 or more.
Canvas
While I'm not sure I would give a friend or family member a canvas because I don't like to choose what others hang on their walls, this is a nice gift for someone close to you. For example, I know my husband would love a canvas with a photo of him and our boys or of a scenic photo from a recent trip we took.
Canvas prices are subjective because it all depends on the sizes you are looking for, but I found this very hot deal at Walmart Photo Centre. Get three 11x14" canvases for only $95.97 with coupon3CANVAS. This is a hot deal indeed, considering that size of canvas is usually at least $50 each. I'm picking one of these deals up for myself asap.
Photobooks
Of course, photobooks are a hot gift under the tree any year. I love giving and getting these. Generally, there are two sizes you'd want to give - large and small. These sizes vary depending on the store you get them from, and so do the features of the photobook, including the type of cover, pages and amount of pages.
For the larger photobook, I found the best deal is at Snapfish, who is selling their 12x12" size photobook with a leather cover for $54.99, but you can use our exclusive coupon code to get another 30% off that price, making your final price $38.49, making it the best deal I could find. The runner-up might be Costco, where their 12x12 books sell for $39.99.
For the smaller photobook, I like the 11x8.5" size (which is maybe more of a medium size) and the best deal I found was at Photobook Canada, where we have an exclusive deal with them for the price of $24.99 and free shipping. Most smaller books came in around the $35 mark for the 8x8" size.
Other Photo Gifts
There is so much selection out there for photo gifts like blankets, puzzles, mugs, ornaments and more. I choose a select few and price compared these and I found Shutterfly, who is having a sale right now on photo gifts, had by far the best price of all the photo gift stores. Don't forget that Shutterfly ships from the U.S., so you may incur duties, but I have ordered from them and have not had any duties charged. Most notably, the mouse pads at Shutterfly are only $5 and the 11oz mugs are only $9.89. I found both of these items for double the price at other stores.
Ornaments
Again, this is where Walmart wins with its regular price on a personalized photo ornament being only $12.97. You might want to take a look at the other stores though, because the selection is so varied when it comes to ornaments from plastic to ceramic to metal.
Where is your favourite spot to buy photo gifts Bargainmoosers? Let me know in the comments below!
Photo credit: Phillip Wong