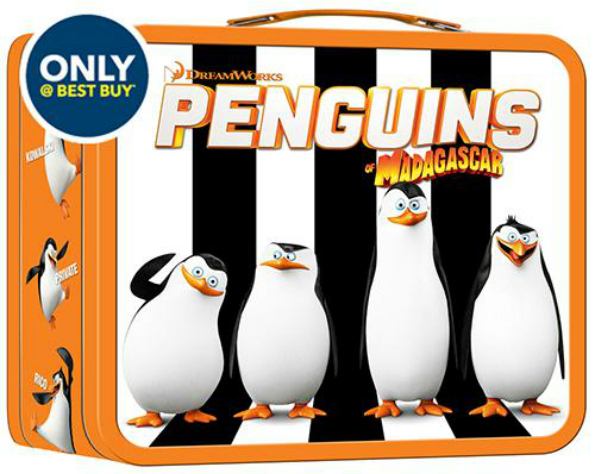 You really need to get over to Best Buy Canada's website right NOW and pick up with incredible deal on the Penguins of Madagascar Lunchbox, This is not just a lunchbox, this is an exclusive to best Buy Canada set that includes both the Penguins of Madagascar Movie (DVD) and Lunchbox together. This set is on clearance for just $2.95!
If you want an idea of just how valuable this set is, we can compare it against prices for just the movie (as the lunchbox is exclusive to Best Buy). Just the Penguins of Madagascar Movie (DVD) costs $13.88 @ Amazon.ca and $13.88 @ Walmart.ca. This is without the lunch box, which looks really cool and is probably the same value as the movie. This is one HOT deal!
If you have seen one of the Madagascar movies, then you know who these finned characters are. These are the illustrious Penguins of Madagascar and they are back in their own movie. According to Best Buy:
When a villainous octopus named Dave hatches a plan to eliminate the penguins, Skipper, Kowalski, Rico and Private must team with a clandestine animal organization known as North Wind to thwart the diabolical plan.
These penguins are super funny. I have seen clips from the movie and it seems to be a real shoe-in with kids. I think this lunchbox and movie set would make an amazing Christmas present for them as well. Seriously - there are very very few new DVDs under $3 these days, and certainly not one that was just released a few years ago. With the lunch box on top - this is sure to be a hot with the kids.
This is the DVD version of the movie. i checked out the Blu-Ray version, and even on sale it will cost you $19.99 without a funky lunch box. I am pretty stoked about this deal. If it sells out online, you still should be able to reserve for in-store pickup.
Receive free shipping on $25 or more online. I do recommend you reserve at your local store if you are only buying this set. You can also check out the entire Steelbook Blowout Sale at Best Buy Canada for more awesome movies at awesome prices. I LOVE SteelBooks so I hope Best Buy Canada is not discontinuing them.
(Expiry: Unknown)