Best Buy Canada is offering $4 off all Star Wars Funko Pop! Figures. Originally $13.99, these figures come down to just $9.99 when you use the following coupon code. While checking the coupon code, I also discovered that this Best Buy coupon takes $3 off all other Funko Pop! Figures - including already discounted figures. Shop quick before these fantastic deals sell out.
Click here to shop Funko Pop! Figures @ Best Buy Canada now
Coupon Code: RFUNKOZ
Discount: $4 off Star Wars Figures & $3 Off other Figures
Expiry: Unknown
First, I have to mention the sale Funko POP! pieces that this coupon stacks with. Funko Pop! Disney: Frozen - Kristoff Figurine was $10.99, is on sale for $7.99, but comes down to $4.99 after coupon. Funko Marvel - Odin Pop Bobblehead Figurine was 9.99, is on sale for $6.99, and comes down to $3.99 in my cart! That is a super-hot sale price and I think this might be an error with the coupon code... so purchase ASAP.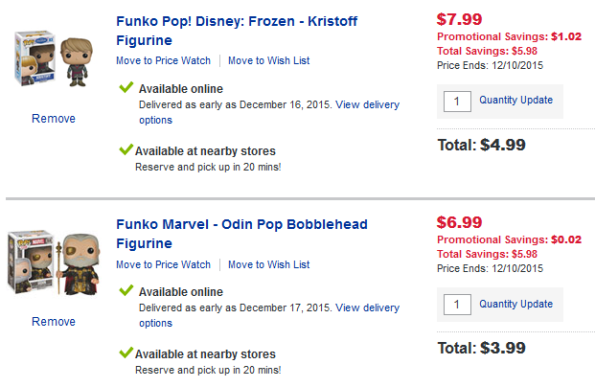 Back to the Star Wars Funko Pop! Figures. My top pick is the Funko Pop! Star Wars BB-8currently $13.99 and only $9.99 after coupon. This is like the new R2-D2 and it looks amazing. I have to say that the droids were one of my favourite bits from Star Wars so seeing another awesome droid like this really takes the cake.
Storm Troopers are always a big hit so this Funko Pop! Star Wars First Order Stormtroopermight make a great gift. Originally $13.99, this figure also comes down to $9.99 after coupon. For more dark side action, pick up Funko Pop! Star Wars Kylo Renas well. Any dude who wears all black in the Star wars universe cannot be on the side of good. All the Star Wars Funk Pop! Figurines are in stock except for C-3PO, who appears to be a fan favourite. Personally, I never cared for him. I would take R2-D2 and BB-8 over C-3PO any day.
Of course, there are other Funk figures to collect. This Funko Marvel - Heimdall Pop Bobblehead Figurine actually resembles a character I built in Empire Dynasty Warriors - I called him Father Time. The guy was $12.95 and is now $9.95 after coupon. If you are into Magic the Gathering, then there are also figures based on that geek-dom. I also like the Assassins Creed figures they have. Hunger Game fans can even find a few Funkos in stock and all receive $3 off.