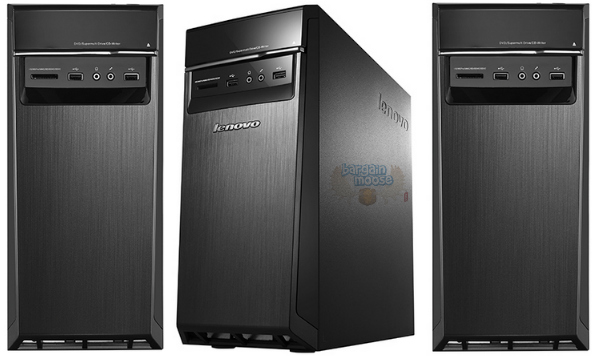 We have another wonderful desktop deal for you, and I like this deal even better than this HP. This fully loaded Lenovo desktop computer is on sale from $649.99, and is now on sale for $499.99 with free shipping.
This computer is a little bit better (in my opinion) to the previous HP deal, which was also a really great deal especcialy when you compared with HP's website. Like the HP, this Lenovo comes fully loaded:
Processor: AMD A10-7800
Hard drive: 2TB HDD
Memory: 12GB RAM
Graphics Card: AMD Radeon R7 Integrated Graphics
Operating system: Windows 8.1
The processor is the lower end equivalent of an Intel i7. I love this sale. First, this computer will store all your family photos, home movies, music, and more without blinking an eye. This computer offers incredible amounts of space with a 2TB hard drive!
Speed isn't an issue with 12GB RAM active memory. The graphics card is great for watching Youtube, movies, and more on your computer. For hard-core gamers this may be a bit under powered, but this makes an excellent family desktop computer. Children and adults alike can play computer games without lag due to the combination of good speed and a good graphics card.
As family computers go, just make a separate user account for each family member. This way, your children can customize their own desktop and have safe and secure places to store their homework and research without fear of someone else accidentally deleting it.
I think this desktop is the perfect workhorse for a home or office. To get the same stats in a laptop computer would cost you over double this price. I know laptops are amazing, but the extra price you pay for portability and small profile can eat into your budget. if your computer rarely moves, then consider buying a desktop instead. You can get better stats for less money.
I could not find this desktop with this configuration of stats many other places. Amazon.com (US) offers it for $510 USD (on sale from $600 USD). Other websites (like Newegg Canada) offer smaller configurations (8GB RAM, 1TB HD) for $550. From everything I found online, this is a great deal on a fully loaded desktop.
(Expiry: 18th June 2015)