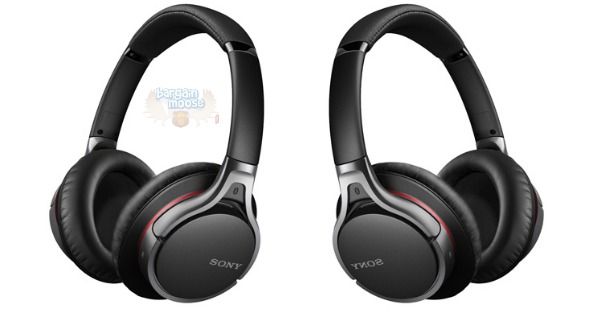 Bell Mobility Canada has substantially discounted the Sony MDR-10R Series Bluetooth Headphones in black with red accents. Originally $249.95, the headset is now on sale for $149.97. Bell offers free shipping on orders of $50 or more.
I always price compare headphones thoroughly to make sure you are getting the best deal. I find that headphones and wireless speakers often drop in price, so I want to make sure I am writing about the lowest price - not just a lower price. This wireless Sony headset retails for:
$249.99 @ Sony Store Canada
$249.99 @ Best Buy Canada
$179.99 + $9.16 shipping @ Amazon Canada
When price comparing this headset, you have to be very careful about getting the version right. The same code (MDR-10R) applies to both a wireless set and a wired set. This is the wireless set - perfect for people looking to get with the system and cut the chain that tethers them to their iPhone, Android, computer, and more. You could also use this beauty with a Bluetooth enabled television. That way, your 2 AM binges on Game of Thrones will not disturb the rest of the household. Only your groans over who killed off might stir the dead... or sleeping parties.
In my house, headsets are essential. They are the way my partner indulges in hockey without driving me crazy. They are also the way I indulge in metal bands like Disturbed, Apocalyptica, Tool, and more without driving the household crazy.
When you go to checkout, Bell has a little compatibility test to ensure this headset will work for your device. I tried my phone out and received this message:
This accessory is not compatible with your iPhone 5s. If you continue with your purchase, please be aware that this accessory will not work with your mobile device.
I do not actually have the 5s, I have the iPhone 5. I also do not quite believe this report as my iPhone works just fine with my Sony Bluetooth speaker. Even if you get this response, you can still order the headset.
Reviewers, for the most part, are quite pleased with the headset. One reviewer on Sony said:
Just bought the MDR-10RBT headphones. So far all went well. It was easy to pair them with my iPad, Blackberry, and Mac. The sound is very good, with just the right amount of bass and great volume. They fit well and are not uncomfortable.
I would read more comments as some of the reviewers tell you how to use APT-X codec for the best possible sound.
(Expiry: Unknown)