Baskin Robbins Canada: 31 Cent Scoop Day!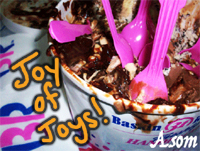 You scream, I scream, we all scream for ice cream! Good news folks – Baskin Robbins are having their 3rd annual 31c scoop night! It will be held on the 29th of April 2009, from 5pm to 10pm.
I'm posting this now so you can scribble it down in your diaries, and I will bump this post a little bit closer to the time as a wee reminder.
Alas and alack, there's a limit of 3 scoops per person, which isn't very many. Maybe you could put on a funny hat and a fake moustache and go back in for a second helping.
31c per scoop of Rocky Road! I cannot wait! I cannot contain my ice-creamy joy!
P.S. Check out this previous blog post to claim a free Baskin Robbins discount coupon.
Thanks Miss Asom!