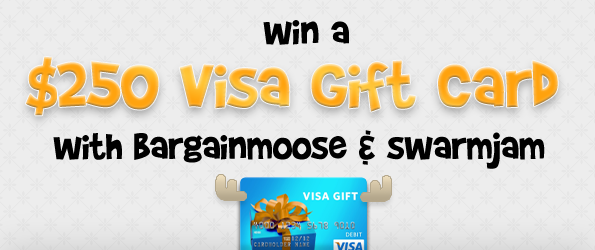 *** Contest now closed - congrats to Bargainmooser Monica as announced here on Swarmjam's Twitter ***
Swarmjam.com is one of the daily deals sites in Canada who we sometimes post about here on Bargainmoose. They have offered to give one of our lovely Moosers a special prize - a $250 pre-paid Visa card!
It's a 2 step contest this time, so please read this carefully to make sure you are entered correctly.
1. Go to Swarmjam and sign up for daily emails in the city of your choice

2. Come back here to Bargainmoose and leave a comment below (why not tell us what you would like to spend your $250 prize on?)
Prize: A $250 pre-paid Visa card. The winner can use their prize anywhere that accepts Visa.
I could do with the $250 pre-paid visa card myself! I'd buy some new sweaters, I really need some... I've got my eye on one at Roots.
I've spotted a very interesting deal on Swarmjam Kingston actually. Have you ever heard of whiskey stones?! They're little cubes of granite that you keep in your freezer, and then use them to cool alcoholic beverages without diluting it with ice cubes - pretty cool! It was my Great Uncle's 90th birthday last week and I was racking my brains trying to think of something he doesn't have - wish I'd know about these, as he is partial to a little tipple. They're only $19 on Swarmjam.
Rules:
Ends 23rd February 2012
Canadian entrants only
One entrant per household
Must use valid email address in both contest stages so we can contact winner
Rules subject to change, admin's decision is final
Note: Winning comment will be cross-referenced with Swarmjam's mailing list