Bargainmoose Birthday Contest Part 3: Find the Leprechaun's Pot of Gold & Win an iPad Mini! (CLOSED)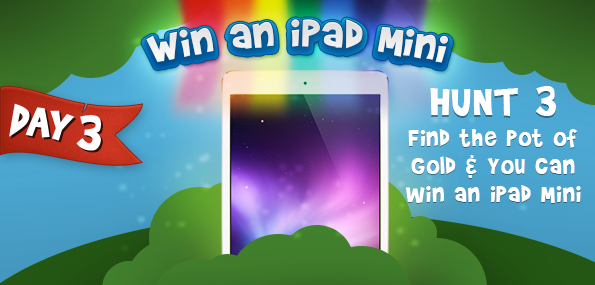 *** Contest now closed. The word you should have been hunting for was "wishes" and that would have let you to a pint of Guinness! ***
*** The winner was Mooser Scott! ***
We're now on to the third part of the treasure hunt in our sixth birthday celebrations here on Bargainmoose. In each part of the four hunts, we're giving away an iPad mini… that's what you could win by participating below! Also, don't forget that we've got random surprise contests as well, so make sure that you browse on to Bargainmoose from time to time to try and get on to those too.
How To Enter Today's Contest to Win an iPad Mini
Right! Let's find some more Leprechaun's gold today. Part 2 of the contest was a little more difficult (you had to search for "rainbow") so let me see how difficult I can make it today…
The image to the right shows you what the pot of gold looks like, that's what you've got to find hidden on the Bargainmoose blog by solving the question.
Here's what you have to do to enter:
Solve the question below
Pop your answer into the Bargainmoose search box at the top of this page
Hidden in a blog post, find the magic symbol on the pot of gold
Email us telling us what the magic symbol is
Solve The Question
What does a leprechaun give you if you catch him? (One word answer)
Bonus Contest Entries
Day 3 Rules
Canadian entrants only
One entry per household
Ends 24th August 2014
Rules subject to change at admin's discretion