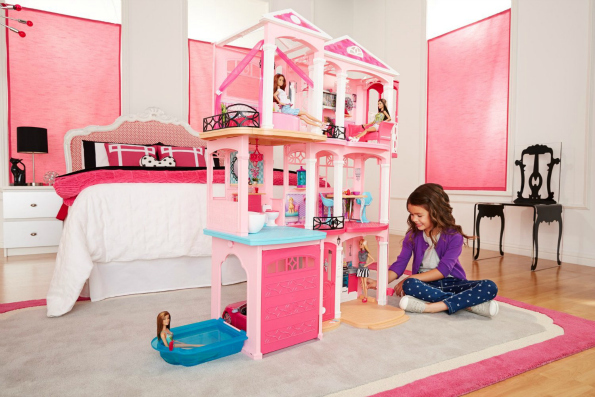 Every girl dreams of owning the Barbie Dream House. It is a huge dollhouse designed specifically to fit Barbie dolls. With three levels of rooms with doors, furniture, windows, and more... this Barbie Dream House will make your child's dreams come true. Originally $229.99, the dreamhouse is now on sale for $120 at Amazon Canada. Receive free shipping on the Barbie Deamhouse as well.
There are three floors with a total of seven rooms, a working elevator, and a garage. The elevator works via a simple 'pull' mechanism to ferry your Barbie dolls between levels. There are 70+ accessories for this doll house including interactive furniture pieces with lights, sound, and/or motion. For example, in the aquarium you can watch the fish swim and hear bubble sounds.
For the technologically inclined, there is a flip open "flat screen" in the living room that is designed to hold your smartphone so Barbie can watch movies.
The house has all the classic rooms with modern designs. There is a first-floor entryway and kitchen; second-floor dining room and bathroom (with pet room between); and third-floor living room, bedroom and walk-in closet. There is also a garage and fold-out pool as well.
The Barbie Dream House is completely sold out at Walmart Canada. Toys R Us has the same deal but you are going to pay a bunch of extra money for shipping. It was $12 in extra shipping charges to me. Sears Canada still has the doll house at $229.99.
One reviewer at Sears commented on how timeless Barbie is:
My 5 year old daughter absolutely loved this!! She even had my 15 & 13 year old daughters playing with her :) I'm super pleased with the product and I definitely would recommend this purchase to other moms. Once again Barbie proves you are never too old to play with the Dreamhouse.
That is really cool that all three of her daughters, at different ages, still enjoy playing with the Barbie Dreamhouse.
I cannot think of a better gift to give your child who just loves Barbie. I know some parents like to do one 'big gift (also known as the expensive gift)' and a bunch of smaller gifts. This would be a wonderful 'big gift' to find under the Christmas tree.
(Expiry: Unknown)