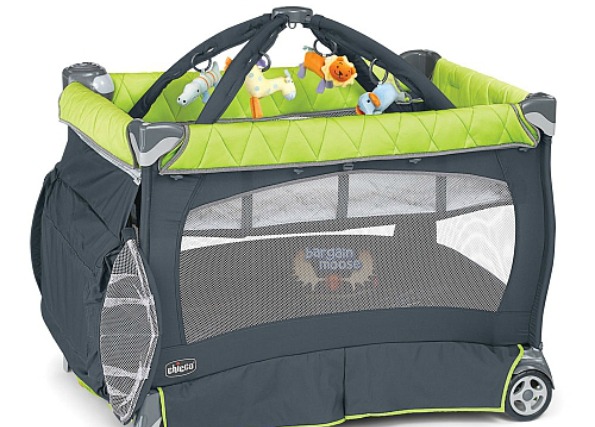 A playard is pretty much a must-have with a baby and toddler. It seems they've changed the name from play pen, maybe because that sounded a little restrictive for the child. Right now, Toys R Us has the Chicco Lullaby playard on sale for $199.98, with a regular price of $269.99. On top of that, they have a buy one, get one 50% off on all clearance items, including this one. There is a limit of one per customer on this playard, so you can't buy two and get the second 50% off, but you can see what other items you might need from the clearance section for 50% off.
If you are a new parent, you might think a playard is a frivolous item, but you would not be correct. I loved having mine on the main floor, where I used it for diaper changes, naps when I wanted to be around the baby, and eventually to keep him safe while I did a few things and he wanted to crawl up the bookshelves. Obviously, you don't want to keep baby in the playard all day, but there are many instances (like whn you have to cook dinner) when you need him/her safe and contained.
A playard is also important for when you'll be going on road trips and want to make sure your baby is sleeping safely. You really can't count on those hotel cribs. We also took ours camping so my baby wasn't crawling around in the dirt all the time.
This playard is a lot more deluxe than the one I had ten years ago and mine was considered deluxe then. It has an incorporated elevated bassinet and change table. There are toys that go with the bassinet or can be taken off to use as a play mat. It also has added features like music, vibration and a nightlight. I also like that it has a push-button folding mechanism before for the life of me, I couldn't figure out how to get my playard down and back up again. It also has wheels so you can cart it around very easily.
When I researched around, I found this playard selling for $280 at Snugglebugz.
For your second item, I'd suggest another high-priced item, like the high chairs or strollers on sale. When I added the BabyHome Eat high chair to my cart, it came down to $84.99, from a regular price of $189.98.
Shipping for these large items won't be free, but you'll get a $10 discount and for both items, I had shipping at a total of $13 in my cart.
(Expiry: Unknown)