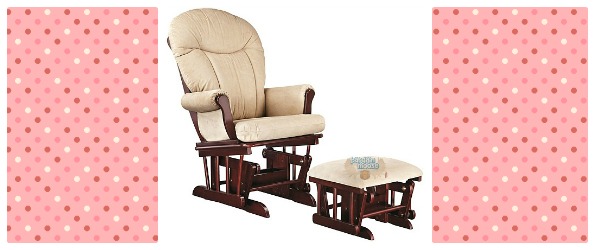 Babies R Us Canada is having a huge Babyfest Sale, and this Shermag Metro Glider Combo is a great deal, with $50 off plus a $20 off coupon code, making it now only $229.97.
Click here to shop @ Babies R Us 
Coupon Code: SHERMAG20
Discount: $20 off all Shermag gliders
Expiry: 31st December 2013
I can't stress the importance of having a comfortable place to nurse, rock and cuddle your baby in their room. With my first son I was given a beautiful wooden rocking chair as a gift. While beautiful, it was hard to sit on for the long periods of time you sometimes sit in it. It also moved when you rocked and would hit the wall behind me, denting it, and making enough noise to wake the baby I just got to sleep. I remember being very frustrated. Then, we bought a glider rocker and life was so much easier.
This Shermag Metro Glider Combo is $50 off, plus you can use the coupon code and get an additional $20 off, making the final price $229.97. It looks like a nice piece of furniture with solid hardwood, sleigh styling and plush wraparound cushioning. The thickly padded arms and seat provide all the comfort you need for the many, many, many hours you will be sitting in it. A steel ball bearing glide system will withstand the thousands or millions of times you will rock it.
With two reviews, both five-star, this glider is said to be easy to put together and a great value for the money.
Shipping is free on orders over $100, up to a $20 value.
Don't forget to check the Toys R Us coupon forum for more Toys R Us Canada coupon codes.