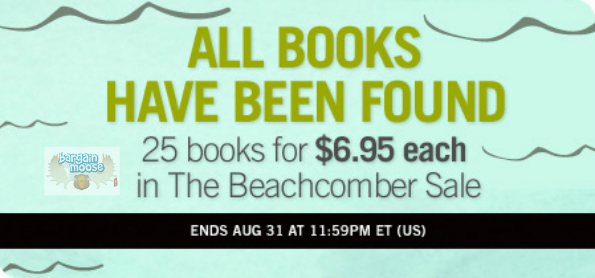 Audible recently sent it's members on a scavenger hunt. Audible hid five books a day for five days and the members followed clues to find them. They've all be found and are now on sale for your purchasing pleasure.
There are 25 books on sale. These are a few of them:
This is the little blurb that Audible has up about this sale. Makes me want to go to the beach. But more than that, it makes me want to listen to some awesome audiobooks!
Have you ever walked along a beach and come across something fascinating buried in the sand? Or followed a map all the way to where "X marks the spot"? Last week in our Beachcomber Sale, we hid 25 audiobooks throughout our site, and every day, our listeners followed clues to uncover the hidden treasures. Now that the books have been found, you can get all 25 for $6.95 each until Friday, August 31, at 11:59PM ET. Enjoy!
This is such an innovative way to have a sale. It isn't "here, we have product, you have money, let's get together and exchange product for money." There is interaction here. You had to follow clues to find the books that were on sale. Of course they aren't jerks about it. If you happen to have missed the sale or couldn't figure out some of the clues, they are now offering all the books. When you go to the main page of the sale, you can see the clues under each book.
You have to have an Audible account to get this deal but it is very, very worth it. You can get a "light" account for $10 a year but I suggest you get an account with credits. you can get one or two credits a month and generally one credit equals one book. Some bigger books are two credits. You will not be disappointed.
(Expires: 31st August 2012, 11:59PM ET)