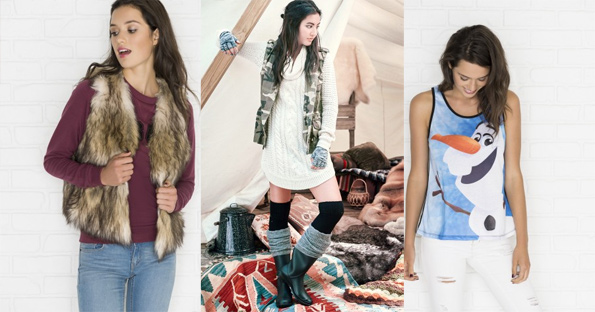 This weekend at Ardene.com, they've started a free shipping offer which is available site-wide on ANY orders! This only happens once in a while, so it's a great offer as it is a saving of $7 on the regular shipping costs. On TOP of that free shipping deal, there are a ton of other offers on various departments across the site as well!
There were just too many online offers for me to fit into the title of this thread, so I will go through them one by one here.
There is a 30% discount on most of the outerwear deals – you'll see this in your shopping cart. Items start at $17.15 for the likes of this beautiful Red ethnic poncho!
Buy 1 pair of shoes and get the second for only $1! As is usual with this type of offer, when you put two pairs in your shopping cart, it will be the lower value pair that is discounted down to only $1. There are some incredibly cute little loafers and ballet flats which are ideal in this type of offer. The prices start at $14.50, so it means you can get two pairs for $15.50 – that's $7.75 each!
In this section, there are many items on offer – buy one at full price and you can get the second for only $5. I love this Olaf tankwhich I have pictured above! It's $19.50 to buy on its own. I'd likely match it with these Olaf leggings for Christmas – as they'd only be $5. :)
All the items on the above page are at 70% off - the discount also appears in your shopping cart. Combined with the free shipping, this is excellent. Now, there is quite a bit of summer merchandise in there, but it's an ideal time of year to stock up for next season. For example, this lovely Coral printed strapless bustier top is $4.35. Wow!!!
We have an ongoing exclusive coupon code with Ardene for an extra discount for the Moosers. Use the coupon code BARGAINMOOSE5 to score an extra $5 off $50! I tested the coupon code out on the above outerwear deal, and it stacked ON TOP of the already discounted items. Sweet!!!!
(Expiries: Free shipping ends on the 15th November 2015   - the rest of the promos, unknown)