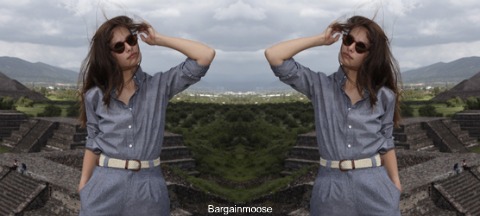 We got an email from Josh at American Apparel giving us the low down on American Apparel's sales for the rest of November. I thought I would share his email with you.
Hi Bargain Moose!

It's getting closer to the holidays, so I just wanted to quickly give you the heads up about some promos coming up at American Apparel this month! As you know, we very rarely run in-store promotions, so whether you're shopping for someone else or stocking up on favorites for yourself, November's a great month for deals at AA!

Here's what we've got going on:

November 11-28, all socks, tights, and hosiery are buy-3-get-one-free! We're also giving a free gift with ANY purchase of $60+

From Nov 20-24 we're running 5 Days, 5 Deals:

Nov 20: buy-one-get-one-50%off on t shirts
Nov 21: 20% off all sweatshirts (including hoodies!)
Nov 22: 15% off all collared shirts
Nov 23: $20 off all outerwear, PLUS buy-2-get-one-free on all kids' cardigans and long sleeved t shirts
Nov 24: buy-two-get-one-free on all underwear, hosiery, and socks
Sounds good, thank you Josh for writing us!
Last month I finally bought a couple lace petticoats from AA and they are beautiful and fab! <3