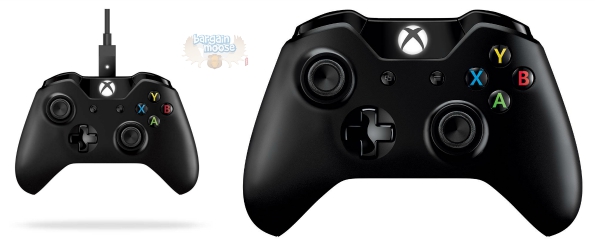 Game controllers are always a hot ticket item for families with multiple gamers. Controllers can often cost quite a bit and outfitting a family of three or four gamers can be quite expensive. However, Amazon Canada currently has the Xbox One Wired PC Controller on sale from $59.99 down to $38.99 with free shipping. These are the most sought after controllers (and thus, more expensive) as they are versatile for use with the console or PC and the controller comes with the PC cord.
When you click through the above link, you will see the device as sold by Amazon and fulfilled by Amazon for $19.36. However, underneath the 'add to wishlist button' there is the same controller sold by EnGadget but fulfilled by Amazon for $38.99. The Engadget one is 37 cents cheaper, but it is up to you which one you buy. The other may be a good back up in case one sells out.

I extensively price compared this controller with other online retailers. Here is what the controller is selling for elsewhere:
$56.99 + $8.99 shipping @ Newegg.ca
$59.99 @ Microsoft Canada
$64.99 @ Best Buy Canada
$59.75 @ Staples Canada
$48.99 @ NCIX.com
The price at Amazon Canada is far lower than anywhere else by, at minimum, $10. That is an extra $10 to $20 in your pocket.
This controller is extra special as it is the model that allows you to play on your console or on a computer. On the computer, you can play with the controller wired in. On an Xbox One, you can play wired or wireless.
This controller has redesigned thumb sticks to improve upon the Xbox 360 design. It will feel ergonomic in your hand to reduce fatigue. Some people are disappointed that the controller doesn't 'light up'. However, others are quite happy with the new design. One reviewer at Microsoft said:
Who Cares If it Doesn't Light Up. The reason i bought this over the Rival Console Controller is because of premium quality. Xbox 360 was premium as well. I wanted to go the next level so i bought this. The original concave analog sticks, The superior right and left triggers. Even if the D-pad isn't great... it is improved upon. Hence making this controller "the standard" to others..... Its a technological Marvel.
The main criticism is how expensive these controllers are with regular retail prices averaging around $60. It is just unaffordable to buy a couple extra controllers without going over the $100 mark. With this promotion from Amazon Canada, you can now stock up.
(Expiry: Unknown)