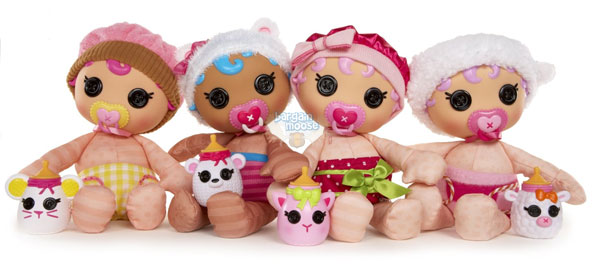 Dolls and toys in general can be pricey nowadays, but they don't have to be, especially if you take advantage of promotions like the one that Amazon has going on right now. For a limited time, you can save up to 65% off select Lalaloopsy babies dolls. But hurry because these are definitely selling quick!
Having never heard of these dolls, I Googled them and as it turns out, these rose to popularity in 2010 and were originally called "Bitty Buttons" (which explains why they have buttons for eyes). From there, several mini-series and video games were also crafted around these dolls.
Below is a list of the dolls you can save on:
All of these dolls have fab reviews with one happy reviewer even posting the following on the pillow Featherbed doll:
One of my granddaughters asked me to get this for her. She was in love with it as soon as she opened it. Was very pleased with price and fast delivery.Thanks Amazon!!!!!
I was also surprised to discover that it's actually $24.97 at Walmart. Toys R Us doesn't have the Featherbed one, but they do, however have the Crubs Sugar Cookie and Mittens Fluff n Stuff for as high as $26.99.
There is also a really great deal on the mango tiki wiki mini Lalaloopsy doll: it was originally priced at $78.24 but is now down by 52% to just $37.45. Keep in mind that this one is different from the babies dolls and is more doll-like. She's also not as big and can more easily fit in the palm of your hand. As noted by the many positive reviews, this is also the kind of doll that can be easily collected and if this is the one you choose to get for your little one, then be prepared for her to want them all!
Since there are a couple of other mini Lalaloopsy dolls on sale as well, like the Dyna Might down to $47.71 (reg. $77.57), you can get a couple of others in advance to surprise your child with in a couple of months... or you can just give them all at once too! In either case, now is a great time to shop considering their original retail price is rather high.
Also, all of these dolls feature a warning that they are not suitable for children younger than three years old as they come with small parts (accessories and little pets).
As usual, shipping is free on orders over $25.
(Expiry: Unknown)