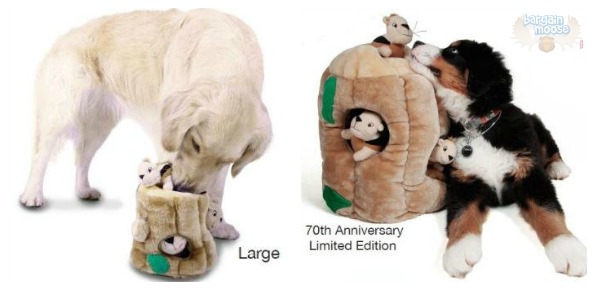 Amazon Canada is currently offering up to 65% off select Kyjen hide-a-toy dog toys.
The discounts actually start at 40% off and go up to 65% off. This Hide-a-Squirrel Pet Toy, Jumbo is the best deal. Originally $22.99 it is on sale for $7.99. I know my parent's dog would go absolutely nuts over a toy like this. Foxtrot (their dog) is really smart and she loves playing with plush toys. This Kyjen Plush Puppies 70th Anniversary Hide-a-Squirrel, Limited Editionalso looks like an amazing toy for active dogs... and it is huge! Originally $99.99 it is on sale for $39.99.
So, why are these toys so cool?
They work in reverse of regular puzzles, dogs take toys out, you put them back in. Our original puzzle toy line was created to challenge and develop your dogs intelligence and problem solving skills. The puzzles exercise a dogs natural instinct to search, stalk and capture its prey, as well as strengthening eye-paw coordination.
They have a ton of really positive reviews from pet owners. Certainly a great buy.
Get free shipping on orders of $25 or more.
(Expiry: 31st October 2013)