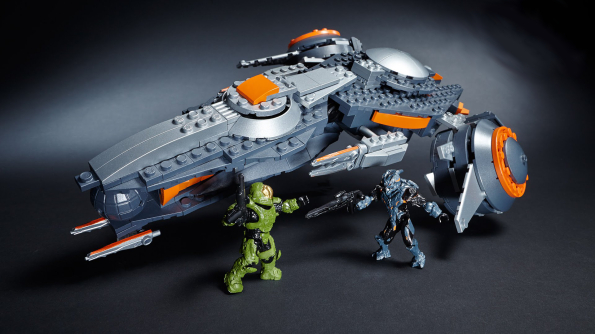 Mega Bloks seems to have quite a few different Halo sets available - and Amazon Canada has put quite a few of the available sets on sale for up to 43% off. If you have a little one who is into the Mega Bloks Halo Sets, then this might be your golden opportunity to snag a few at a discounted price to wrap up as Christms gifts. Spend $25 at Amazon.ca to get free shipping.
There are so many different Halo Mega Bloks sets on sale at Amazon.ca, you are really going to have to have a browse through and snag the ones that your child needs to complete their collection. There are a few great starter sets available too. I will highlight the best savings for you if you are new to purchasing the Mega Bloks Halo sets for your kiddo.
The Mega Bloks Halo UNSC Mantis is on for 33% off, which leaves you paying $24.87 instead of $36.95. The similar Mantis sells for $69.99 @ ToysRUs.ca. This offer isn't a Lightning Deal, so it could last a while or it could last a few minutes. It includes the light machine gun weapon, buildable UNSC multi-purpose battle mech, buildable loading and repair bay and the UNSC Trooper: Spartan in warrior stealth armour. 
The Mega Bloks Halo Convenant Drone Outbreak Building Set is one of today's Lightning Deals, and it is already 6% claimed even though it is quite early in the day. It will expire at midnight if it doesn't sell out before then. It was originally $34.99 but is now 43% off, which leaves you paying just $19.99. In this set you will find a fully buildable UNSC supply truck, two super poseable UNSC Spartan action figures with interchangeable armour, two covenant drones, as well as the weaponry and accessories and the buildable environment of building ruins.
Another Lightning Deal available is the Mega Bloks Halo H5 Pegasus Building Set. This set was $49.99 but thanks to the 40% discount you will pay just $29.99. The deal is 5% claimed at the time of this post. This Mega Bloks Halo set includes the buildable Forerunner Phaeton which includes the front turret and heavy beam cannon arrays. It also includes the UNSC Spartan and two Promethean Soldier micro action figures. They have detachable armour just like the previous sets mentioned. There is also a few other things included in this set, and this is even a great first Mega Bloks Halo set but I warn you, your child will want more and more.
Amazon.ca requires a $25 minimum spend in order to throw in free shipping, but if you are purchasing the Halo Mega Bloks then I am pretty sure you will reach that minimum spend with ease.
(Expiry: Unknown)