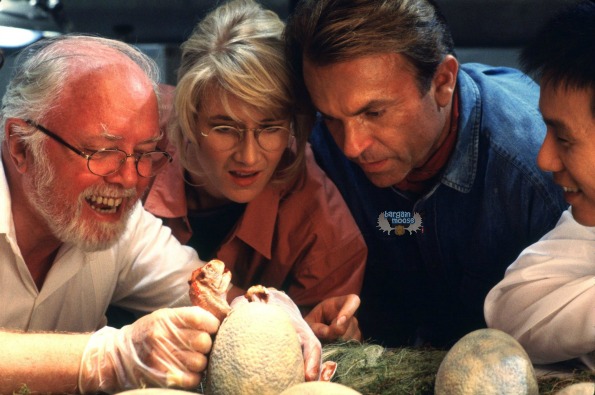 With it being so cold out, I bet you, like me, are locked inside your house wishing for things to do. Well, plan for a weekend of dinosaurs after you buy the Jurassic Park ultimate trilogy at Amazon today, with a regular price of $41.99, it is now down to $21.99.
My oldest son is getting to that age where the kids shows on television just don't cut it for him. I do see him sneak a peek when my youngest is watching Backyardigans, but generally, he is hungering for something more. I watched Jurassic Park as a kid and while it wasn't my favourite movie, boys do love seeing dinosaurs running around.
It looks like this version gives you blu-ray and DVD, so if you have either, you are in luck. In this version you'll get Jurassic Park, The Lost World: Jurassic Park and Jurassic Park III. Make a giant bowl of popcorn, get your heated blanket and cuddle up on the couch for a day of Steven Spielberg's best. I am totally getting this set for my son for the next time I feel like he deserves a gift.
With 114 reviews, almost 100 of them are rated four or five star, with the large majority being a five-star rating.
If you're a JP fan, this is undoubtedly one of the best investments you'll ever make. Not only does it include the Collector's Editions of all three films, but a bonus fourth disc whose material seems to stem from special features that were scrapped for the individual releases.
While shipping is free at Amazon on $25, you'll fall just a little short of that. I know that Amazon has some add-on items that you could get for another $4 just to get your total up to the amount where you won't have to pay for shipping. You'd be much better to do that and get a free item, as shipping is about $6 for these discs.
Interestingly enough, Amazon's regular price of $41.99 is actually low compared to what the competitors price this set at. Check out Best Buy, who sells it for $64.99. Walmart sells it for $59.96.
(Expiry: 20th February 2015)