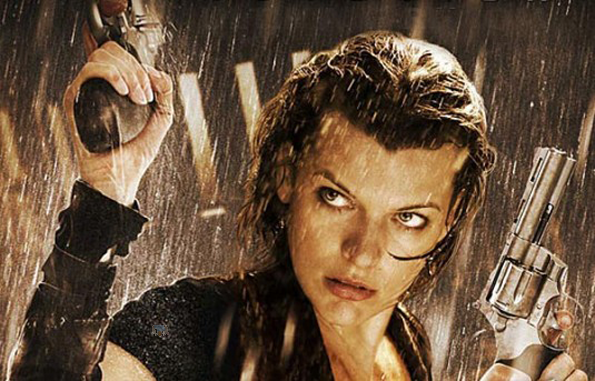 Do you want to see some films featuring flesh-eating zombies to prepare for Halloween this month? Well, if you're familiar with the Resident Evil movies, then this deal for a Blu-Ray collection of the popular series just might encourage you to click on the link below! At this time, Amazon is having a sale on The Resident Evil Collection on Blu-Ray - its regular price is $95.99, but you can now purchase this set for just $25.99! That's $70 off of the retail price! You'll also get free shipping with your order - hooray!
The Resident Evil Collection on Blu-Ray comes with the following movies: Resident Evil, Resident Evil: Apocalypse, Resident Evil: Extinction, Resident Evil: Afterlife, and Resident Evil: Retribution. That's 5 movies in one great package - definitely plenty of horror and sci-fi for you to indulge in when you're preparing for October 31st!
Originally spawned from the famous video game series created by Capcom, the Resident Evil films started to appear on the big screen back in 2002. The games where you had to shoot at hundreds of undead zombies that first appeared on the Sony Playstation and Sega Saturn systems developed so much of a following among fans and casual gamers alike that it eventually became a successful movie franchise.
When you see how the Super Mario Bros. and Street Fighter movies from 1994 turned out, it's safe to say that it's tough for a video game series to make it on the big screen (though the original Mortal Kombat movie from 1995 was a lot of fun to watch, and had some success). The fact that the Resident Evil movie series is still being worked on (Resident Evil: The Final Chapter will apparently be released in 2016) just shows how successful it has become.
This set is currently on sale at Best Buy for $44.99 (though only 1 set is still in stock as of this writing). I've included some brief reviews from satisfied Amazon customers below:
Makes for epic marathon viewing, though the plot is not excatly involved. Comes in a reasonable quality package that will keep the five discs tidy.

Great deal on a great set of movies. Been looking forward to watching these films and they sure don't disappoint.
I hope you all enjoy the rest of your day, Bargainmoosers!
(Expiry: Unknown)