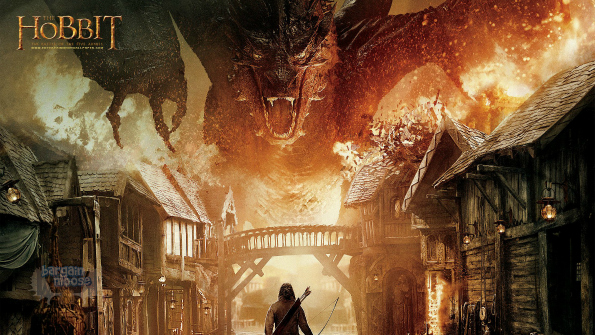 *** Bump: this set has just dropped substantially in price - down to $45.99***
Amazon Canada has discounted The Hobbit Trilogy (15-Disc) (Bilingual) [3D Blu-ray + Blu-ray + DVD + Digital Copy] from $74.99 (retail) down to $58.80 $45.99 with free shipping.
While $74.99 was the original retail price, the box set was at $67.65. I have been tracking this set for a while, and the cheapest price it has ever been before this price drop was about $64.50. Now, I cannot price compare this box set with any other retailers as it is an Amazon exclusive. However, to give you an example on how good this deal is... Amazon.com (US) has a 13 disk The Hobbit Trilogy complete with 3D, Blu-Ray, Digital Edition, and DVD for $119.99 USD. Sweet petunias!
I also price compared with the regular Blu-Ray, DVD, Digital Copy box set (9 disks) just for kicks. Amazon Canada is selling the regular box set for $59.96, so the deluxe box set is now cheaper than the regular is! Best Buy Canada sells the regular set for $59.99 right now and Walmart has it for $59.96.
What you are getting in this box set:
3D Blu-ray version
Blu-ray version
DVD version
Digital Copy
Special features
This set does not include the extended version. That version has not been released yet. A friend of mine and I are thinking it will take until right before Christmas for the extended box set version to be released in Canada. However, this is the better box set for your money right now and offers excellent value. I was not willing to pay full price for this box set when it first came out, thus I bought the regular edition instead. I do not even have a 3D TV so the extra disks would have been lost on me in the end.
I really enjoy The Hobbit. If you love the Lord of The Rings, then you should also enjoy The Hobbit immensely. I have seen a lot of complaints about Jackson not sticking to 'the script' - by that they mean deviating from Tolkien's book. However, this is Jackson's version of The Hobbit. Think of it like cos-playing your favourite character. It does not need to be 100% accurate to be enjoyable.
As the set costs over $25, it will ship to you for free.
(Expiry: Unknown)