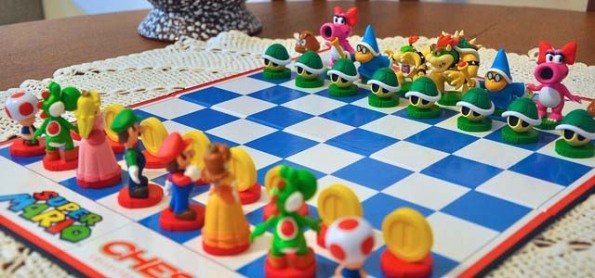 *Bump! This offer is back and at a lower price too!*
When I spotted this item, I literally said "Wow, I need that!", and when I say something like that it usually means I need to share it with you Moosers. Can you believe they have a Super Mario Chess game?! How perfect is this for a Christmas gift for the Nintendo lover? This Super Mario Chess game was originally $55.99, but right now you can call it yours for just $37.46. That even includes shipping & handling (happy dance).
Super Mario Chess. I still can't believe this product exists. It is adorable, and I am sure you could have a lot of fun playing chess with a fellow Nintendo lover and your favourite characters. This one of a kind game will be as much fun to display as it is to play it. Any Nintendo collector needs this item, and I need it too. I won't think twice since the price is just $37.46.
You can play the familiar game of Chess (if you know how to play) except you will incorporate 32 hand-painted Nintendo characters. Even the game board is Nintendo theme, and the carry case is collectible and adorable. So pick your team and take control of the adorable little pieces. Check-mate! They actually have quite a few Nintendo or Super Mario themed board games like Connect 4, Checkers, Monopoly and more. But the Chess version has to be the best in my opinion. According to reviews, this is a great product and you won't be disappointed. Some would even say that it is "Super!". This may even be a way to get the kids interested in playing Chess instead of a game on their smart phone or something. Wouldn't you think?
There are quite a few characters included. Off hand I can see Princess Peach, Mario, Toad, Luigi, Yoshi, Bowser, and more. Which is your favourite character? I adore Yoshi. I actually had a 6 foot tall plush of Yoshi as a kid. Too bad my cousin thought it would be best to paint his nails and put lipstick on him! She ruined that stuffy. Oh well, maybe one day I will get another.
There is no expiry date listed for this item, but it was just a few dollars more at ToysRUs.ca and is no longer available, so I am sure it will sell out fast over at Amazon.ca. I have to admit, this makes me want to play chess and that is quite an accomplishment. Amazon.ca offers free shippingon all orders over $25, so lucky you! You don't even have to worry about any additional fees.
Moosers, do you know someone who would love to receive this for Christmas?
(Expiry: Unknown)