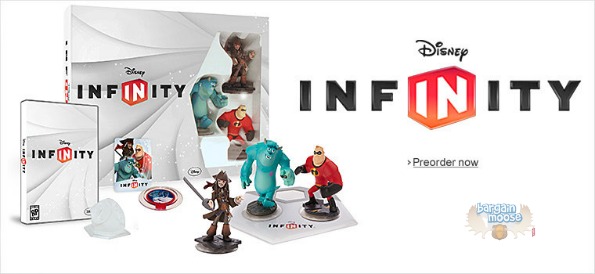 Pre-order your Disney Infinity starter pack before August 17th (for release August 18th) and you'll get a free $10 Amazon credit, which is good towards the purchase of video games shipped and sold by Amazon Canada.
Disney Infinity reminds of me of Skylanders, where you'll have a base, figures and play sets, which you can all use to play the Disney Infinity video game, except the characters are Disney and Disney/Pixar characters. You can choose from Monsters University, Pirates of the Caribbean and The Incredibles. I feel like I'm hooked already. Plus there are additional figures you can buy from the Disney and Pixar lines like Mater and the other Cars crew.
When you place your figure onto the game base, you'll become that figure in the game and wield their special powers to battle enemies, solve puzzles and compete in challenges. You can even create your own world and even with friends via online co-op play. What's also great is that if your friends have the figures that you don't, they can bring them over and play with you as well.
You'll definitely be the first on your block to get this if you pre-order between now and August and the extra $10 isn't too shabby either.
The cost is $74.99 and you can get it for basically any game console like Wii, Xbox 360 and Nintendo DS.
You'll also get free super-saver shipping!
(Expiry: 17th August 2013)