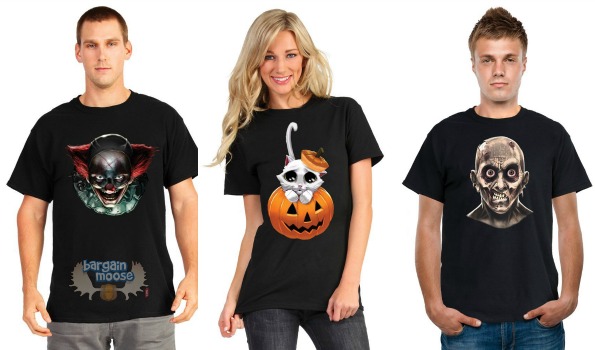 Want to look spooky without dressing up this Halloween? You absolutely need to check out these moving eyes t-shirts on Amazon. Regularly $29.99 (and selling higher elsewhere), they are on sale for various price points, but there are many as low as $19. If your purchase is over the minimum for free shipping at $25, you'll get that too.
These teachers would be great for someone who can't technically dress up for Halloween like a teacher or person who works in a store, but still wants to celebrate Halloween and draw attention. For the teachers, I know this adorable kitty with moving eyesshirt would be perfect! It is not super scary, but just scary enough for the kids. If you are a medium, you get the best deal as this shirt will only be $19.10 for you. The XL is $23.15 and the prices go up from there.
For those who want something scarier, clowns will definitely do it. I watched all of the seasons of American Horror Story without any problem, but the season with the clown has me mentally scarred. I can't do clowns and I'm sure others share my fear. The best deal you are going to get on this freaky clown eyes shirt is in the Plus, which is $25.68 and the large and XL go up from there.
For something more on the creepy side than scary, this mansion portrait has the best deal for the small at $24.60, with the other sizes being around $29.
The Frantic Zombie eyeballs t-shirt is also pretty scary and really this is a shirt you could wear year-round if you so choose. The large is your best deal at $24.87.
These t-shirts sell for $32.99 at Morphsuits Canada.
The other day I told you about the iWound beating heart flesh wound and if you loved that, you'll love this too. These shirts would also be great for a teen who just isn't into dressing up anymore but secretly wants to do something Halloween-ish.
(Expiry: Unknown)