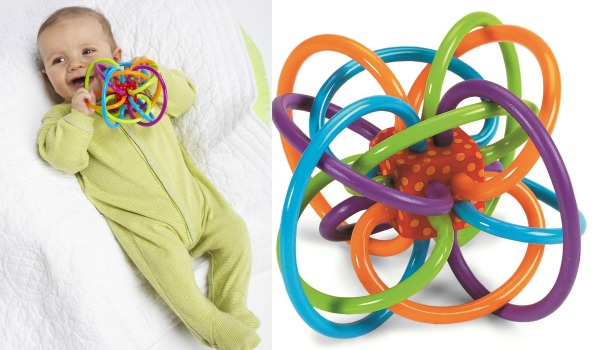 Baby sensory toys are all the rage, but they can get expensive. I found a fab deal on Amazon this morning on the Winkel by Manhattan Toy. It is actually an award-winning toy and the design has been around for over 25 years. Regularly $18.62, it is on sale for $8.81 with free shipping. The seller is not Amazon, but in fact a secondary seller who has a great rating.
Bascially, this toy is a maze of tubes that are great for chewing and fingering, giving constant sensory input to babe. This is the perfect toy for keeping in your purse or diaper bag for when baby needs some stimulation, for example while sitting in their seat at the grocery store or on long car rides. My friend has a new baby who can't stand his car seat and starts crying as soon as she puts him in. I'm going to suggest giving him one of these to distract him from the fact that mom is not holding him.
I like that this toy is easy for any age to hold with the loops and you can even use a carabiner to attach it to the side of the stroller so it doesn't fall out.
Of course, it is made from BPA-free plastic and they even suggest that you can freeze it for teething babies.
If you haven't heard of Manhattan Toy, you must not have any other infants as they have been around for a while, making sensory-type toys for all of ages of kids.
There are varying reviews on Amazon, but the majority love this toy and say that the baby plays with it non-stop. The few negative reviews said the baby didn't play with it often.
Looking around, this is definitely by far the best price for the Winkel:
When you click the link, it takes you to Amazon selling the toy for $13. Bright Deal is the one who is selling it for $8.81, so simply click on 33 new to get to that seller.
(Expiry: Unknown)