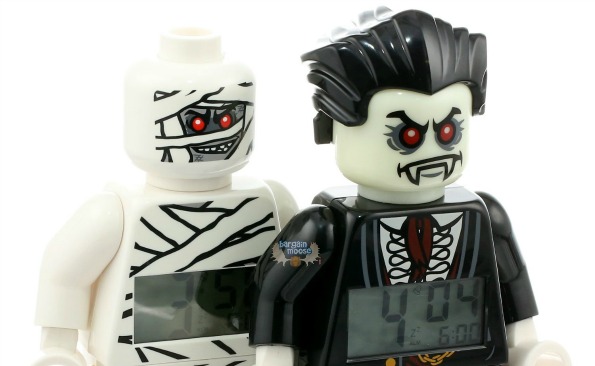 Amazon has LEGO minifigure clocks on sale for up to 50% off. These make great Christmas gifts for any LEGO lover.
My son has a Star Wars clock like these and it is awesome. Because it doesn't look like a clock and more like a toy, kids love these minifigure clocks. And before you wonder why a child needs a clock, think about those 5am mornings where their smiling, awake faces are asking you for breakfast at your bedside. If they  had their own clock, you could make a rule that there is no getting out of bed until a more decent time. This obviously only works with older kids who can read time and who follow rules.
The best deal is on this two-pack of clocks: Monster Fighters Lord Vampire and Mummy, which was $59.98, now only $26.99.
If you want those clocks individually, they are only $5 cheaper, so not as great of a savings. You can get both the Vampire and the Mummy for $21.99, was $29.99.
If a clock is not your style, they also have the Monster Fighters Vampire Minifigure Watch on sale, now only $16.99, now $24.99.
I think the watch and the clocks would make a cute addition to a Halloween gift pack since they are kind of scary too.
Shipping is always free when you spend over $25.
(Expiry: 20th October 2013)