Amazon Canada: Friends: The Complete Series Blu-ray was $323 |Now $69 (EXPIRED)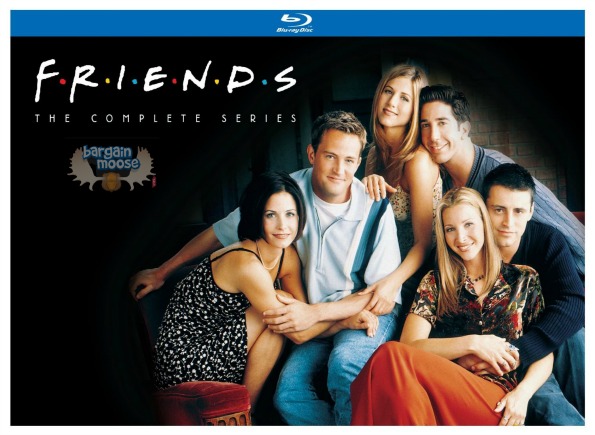 You may want to pop on over to Amazon if you're a fan of the series Friends today.  The blu-ray complete series is only $69 (was $323) and the DVD complete series is only $54 (was $208). You'll save 75% with this deal of the day plus qualify for free shipping.
It seems if you want Friends on blu-ray, this is an especially good deal. The series is much harder to find on blu-ray as a set and is next to impossible to find as individual seasons. If you're cool with the DVD version you'll still save 50% compared with buying it elsewhere or tracking down the seasons one at a time.
"I'll be there for you, when the rain starts to fall…" Who doesn't recognize that crooning song? It makes me want to jump in a giant fountain and splash about. Ok, I'm kidding. I'll stick with a cup of coffee on the couch while I watch the series. If you're up for a TV marathon to just make you laugh, Friends is always a good bet.
Friends is one of those iconic pop series from the 90's that almost everyone watched. I cheered and jeered for Ross and Rachel as their relationship went up, down and "on a break." I still occasionally have one of Joey's favourite treats, peanut butterfingers. I wanted to live in that colourful apartment and hang out in Central Perk. Also didn't someone promise me a duck?
This is one of those series you looked forward to at the end of the night. If you didn't have your own group of misfit friends, this series made you want it.
If you're still debating blu-ray or DVD format, one Amazon review sums up the difference nicely.
Quality set, all the way. If you have DVDs of the "Friends" series, you likely already realize the quality of these older DVDs is somewhat lacking. This set shows how much improved video, can make a series seem refreshed... A terrific show that will last in the minds of fans forever, and this excellent set shows it off again. Very well done.
Here's some prices elsewhere. You'd think this series would be easier to find!
Blu-Ray
$231 @ Future Shop reserve in store only
Letting me down Indigo, Best Buy and Walmart not having it in stock.
DVD
$99 @ BestBuy.ca
$99 @Future Shop reserve in store only
$146 @ Indigo
Letting me down Walmart, you don't have it in stock.
If you want to track down the seasons individually on DVD they'll run you between $9.99 and $29.99 or $100-$300 for all 10 seasons. The blu-ray doesn't seem to be available in individual seasons anywhere. Save yourself the trouble. Pick it up on Amazon so you can keep watching long after they stop re-running it on TV.
(Expiry: 15th December, 2014)