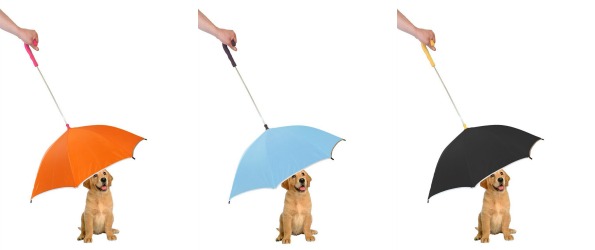 Want to walk your pampered pooch but they hate the rain? Never mind them, do you hate the wet dog smell after walking them in the rain? I've got a solution for both of you and I like to call it the dog-brella, but it is actually called the Pet Life umbrella. Basically, it is an umbrella that attaches to your leash to shield your dog from the elements. Regular $33.59, Amazon is selling it for as low as $6.88 depending on your colour choice.
My dog loves to go for walks so much that if I miss a day of taking her, she takes my shoes right out of the closet and hides them all over the house. She actually wouldn't care too much about the rain, because she loves getting wet, but sometimes I notice her eyes blinking repeatedly when it is hitting her in the face.
The nice thing about this umbrella is that it easy to hold with one hand while you hold your own umbrella with the other. This is because it is attached on to the leash, so you just really have to hold the leash.
The umbrella is also reflective, so on those dark and stormy nights when Rex has to go wee, you will still be seen by vehicles and such. You might need this for Halloween, considering it has rained for the last three years (where I live anyway!).
The pricing breakdown is as such:
blue - $19.55
pink - $19.57
orange - $26.40
black - $6.88
Obviously the black is the best deal, but I was sold even on the blue or pink. These are all sold directly by Amazon, so if you have Prime they will ship for free. If not, get your total to $25 to get the free shipping.
There is one review and the person did not like this umbrella, but I'd still like to try it. I couldn't find anything else like this in Canada, so I couldn't really price compare either.
(Expiry: Unknown)