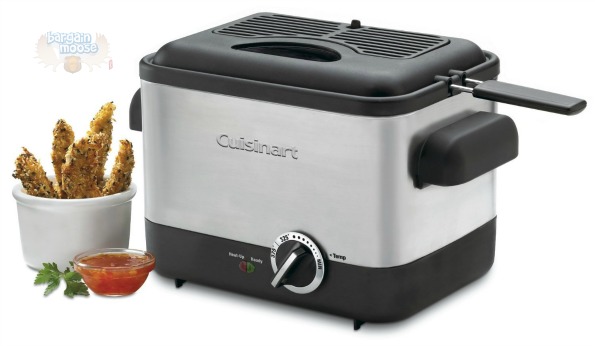 Are you of the deep-fried turkey or ham tradition? Even if you aren't, deep fryers have their place in a kitchen. They are awesome for fries and the absolute best for jelly donuts. Helllllloooooo jelly donuts... my goodness I love them. Homemade are most certainly the best. If you are looking to pick up a deep fryer, then check out the Cuisinart CDF-100C Compact Deep Fryer on sale at Amazon.ca for $58.73 down from $69.99.
So Anna and I both did some price comparisons. She said she couldn't find this deep fryer anywhere for less than $70 plus shipping on top of that. I pretty much found the same thing though I actually found it hard to find this model. I did find it at Newegg.ca which had it for $69.99 with $14.48 shipping. I also kept on finding the CDF-80C model which oddly enough retails for $89.99.
So what are the features?
Nonstick bowl with attached heating element
Basket holds up to 3/4 pound
Holds up to 1.1 litre of oil
1000 watts power
So far the reviews have been positive on Amazon Canada. Because the device costs over $25, it will ship for free.
(Expiry: Unknown)