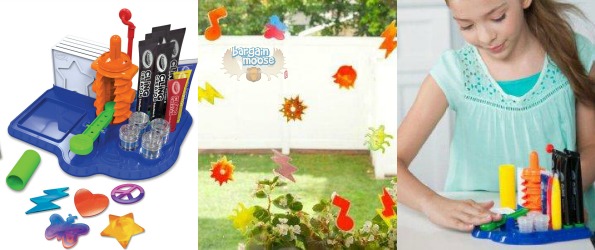 Looking for a crafty gift for a kid who loves to create? Amazon has a sweet deal on the Crayola Cling Creator Craft kit, regularly $25.99, on sale for $18.19.
The first thing I said to myself when I saw this set was "what the heck is a cling?". Clings are things that can stick to smooth surfaces, but removed and replaced easily. They are just fun to make and hang up as art. All of my boys would love this craft set for a number of reasons. First, it kind of reminds me of making a play-doh creation, which they all love to do. But, second, this is something that I'm not going to say will get hard and needs to be put away. They can hang it on the window or mirror and admire their handiwork. My younger boys love making me gifts and they would be so proud of anything they'd make with this cool little set.
This is also perfect for a home daycare, where you can also display the kiddie's work and have that fun, young atmosphere.
Included is:
the base
5 double sided molds
9 tubes of solution
roller and mold tool
clay
four mixing pots
You can also buy refill packs for this, the same as you would do with Play-Doh and they aren't expensive. For $9.99 you can get six more tubes to make another 10 more clings. I am going to buy the refill set with the original set so I can get free shipping with my spend that will now come to more than $25. It also might be worth it to get each kid their own set considering its only $8 more than the refill set and you get more of the solution.
Best Buy and Sears both sell this set for $25.99. Walmart sells it for $24.96.
There are no reviews, which is unfortunate, but I think with something from Crayola, you can trust the quality.
(Expiry: Unknown)