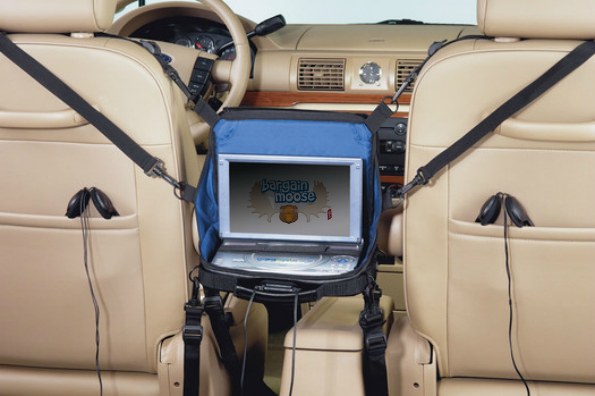 I can't believe the starting price of this gadget, but the current price is great. Get a Case Logic 5 - 7 Inch in car DVD Player Case for $17.38 - originally $201.95. Turn any vehicle into an entertainment centre for the kids.
This case has many splendid features:
Holds up to 7-Inch Portable Dvd Players
Take your portable DVD player and favourite movies
Adjustable in-car suspension system allows case to easily attach to most seat backs or between two bucket seats
Mounting system quickly detaches, converting to a portable carrying case
Sturdy hook-n-loop webbing harness in main compartment safely secures DVD player while in use or while stored
So pretty much you hang this case off the back of one o your front seats, or suspended between two: and the kids in the back get to enjoy fabulous movies that it caries along too. Your portable DVD player is safe and secure. You will miss hearing "are we there yet?"
Here is a review from someone who picked this up:
Our family likes this case for our 7 inch portable DVD player. We can fit almost everything we need into the case. We also used the case in our 4-door pickup truck back seat for the kids. Even though the front seats do not have separate head rests, like cars, we were still able to use the straps in a manner that mounted the case between the 2 front seats for the kids to view.
I wish we had one of these as a kid with a portable DVD player. Road trips would have been so much easier.
Expiry: Unknown