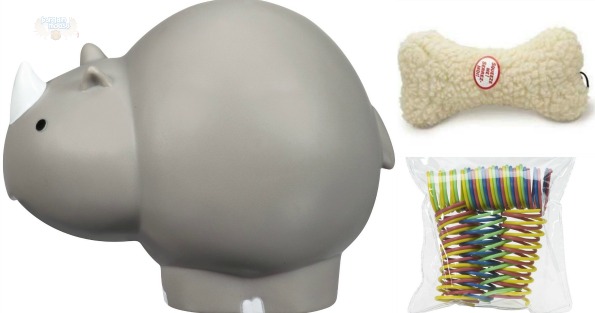 I know that November marks the beginning of Christmas shopping for many families. I wanted to remind Moosers not to neglect the four-legged members of their family; they love new items as well. When you are shopping at Amazon Canada this season, check out the add-on only pet toys that are on sale. For only a few dollars, you can bring your pet hours of enjoyment.
It is so wonderful to see that only a few dollars well spent can bring endless joy to your animals. Without further ado, here are some pet toys on sale that you should add on to your cart.
Cats
I purchased the Ethical Pet Wide Durable Heavy Gauge Plastic Colorful Springs for my boys as an add-on to another order I was doing (shower curtains and new shower hooks). I figured for only $3, it was a small expenditure for owner with the potential for lots of kitty fun. The reviews on this were quite right:
My kittens love these. I didn't realize how boucey these are too. I find them everywhere haha. But for 10 you CANNOT beat the 2.99 price.
My one boy cannot be bothered but my big boy Ghost is going nuts! I cannot find half of them half the time because he chases them into the most unusual places.
Dogs
Seriously, there are some amazing deals on dog toys as well... this is just the tip of the 'toy-berg'. Dog toys start at just $1.50 and go up from there with many on sale. I will be visiting my parent's dog Foxtrot, which I rescued several years ago. We have a special relationship because of that. I will probably bring her some new toys, as she loves playing and these look like a great place to start.
These are all add-ons, which means they do not qualify for free shipping in and of themselves, thus you add them on if you are buying something else.
(Expiry: Unknown)