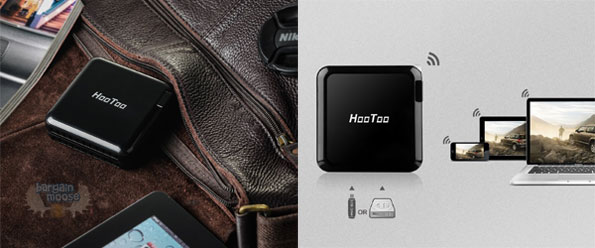 Amazon currently has a great deal on the HooToo TripMate N router: it's now on sale for just $49.99, which is a $30 discount from its original price of $79.99. Shipping is also free.
So what exactly is the HooToo TripMate N router? it's a palm-sized little device that acts as all of the following:
On the go router
External battery
Dual USB wall charger
Personal cloud
That's actually a whole lot of uses for a device this small and that is just $50. Don't judge it by its small size either as this nifty router packs a tremendous punch. You can use the router when on the go to convert a wire internet connection into a wireless network but keep in mind that it can only receive a signal and isn't a LAN port.
The cloud personal storage is very useful as well, especially for those of you who travel with kids. Say you're travelling with the kids, you could transfer a whole bunch of movies and TV shows onto an external hard drive or USB key, then connect it to the HooToo and wirelessly share the files onto each connected device (i.e. smart phone, iPad, tablet, etc.)
The dual USB charging part is also really cool, especially if there are numerous devices in need or charging in your household and just not enough plugs. My hubby and I have had to plug extension cords in nearly every room we use because of the terrible battery life on our iPhones ever since the recent update to iOS 8 and so this little device could definitely come in handy to reduce the amount of cords we have everywhere.
Speaking of which, the HooToo can also be used as an external battery as it features 6000mah. Basically, if you're on the go and need to recharge any device from a phone to a tablet... anything that can charge via USB, you can simply plug the device into the HooToo and recharge it that way without the need for a plug. This could be particularly useful for students or any frequent traveller in general.
It also has a general consensus of 4.5 stars out of 5 with over 460 reviews. Here's what someone had to say about it:
I own all the items in the HooToo Tripmate series, and this one is perfect for short trips or a long work day. This Tripmate mini is great for 3 day vacations because the battery is great for a flight and the router capabilities makes it perfect for your hotel. Just plug in an Ethernet press the power button, and you have wifi.
The only downside to an otherwise amazing gadget is that it doesn't support Mac formatted hard disks.
(Expiry: Unknown)