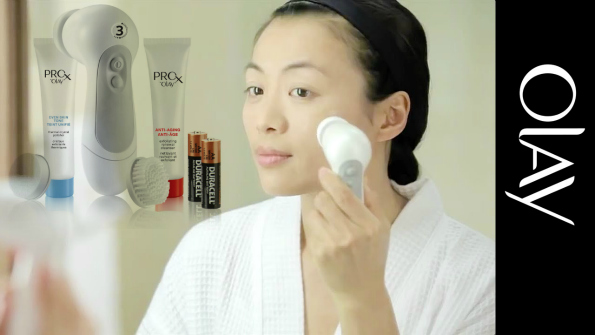 I love deals like this that are practical, helpful, a great price, and totally gift-able. This Olay Pro-X Microdermabrasion Plus Advanced Cleansing System is currently on sale from $39.99 down to $22.99. Receive free shipping on all orders if you are a Prime Member (like me) or on orders of $25.
These systems are all the rage and you can spend hundreds of dollars (literally) on a Microdermabrasion brush. The Olay Pro-X Microdermabrasion System gives you seven-times better exfoliation than just a scrub alone. These brushes are awesome for improving the look of fine lines, radiance, brightness, and pores. They will even help improve skin tone! I made sure to price compare this unit and found it for $39.97 @ Walmart Canada and for $42.99 @ London Drugs Canada.
There are multiple speed settings so you can use this brush for a basic daily cleans or try the advanced cleaning speed for a deep clean. The kit comes loaded with everything you need to start a better cleansing routine:
3 Speed Facial Cleansing System
Microdermabrasion Foam Head
Cleansing Brush Head
Thermal Crystal Polisher 20ml
Exfoliating Renewal Cleanser 20ml
2 AA batteries
You do not even need to provide your own batteries, which is why this makes the perfect gift. I have been debating one of these brushes for the longest time to help remove makeup and slog off dead skin that gets trapped in my pores. Especially during the winter, I tend to shed a lot of dead skin so that my face is either peeling or healing (hey, that rhymes). I find it nearly impossible to put foundation on properly when all my skin wants to do is peel off. I think this brush would be a pretty great little tool.
Reviews are quite positive on many different websites. At Walmart Canada, one customer said:
I couldn't believe the amount of makeup residue it gently removed. My first dermabrasion felt like a warm massage but those little crystals really buff off the residual dead skin cells. Skin is very soft, texture is smoothed and I can see the color in my face that was lost under buildup. I'm look forward to day 2 already. All the women in my family will be getting one for Christmas this year!
I think that is a pretty glowing review. Take advantage of this awesome deal at Amazon. You still have time for it to arrive before Christmas.
(Expiry: unknown)