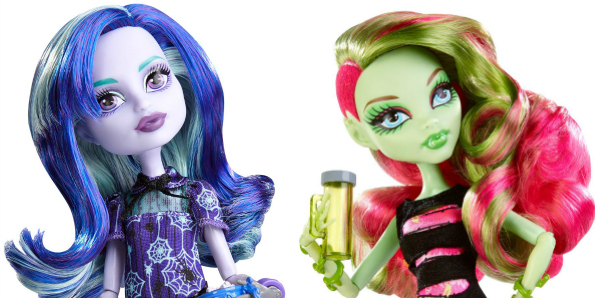 I love my Monster High dolls and I know collectors and kids across Canada do as well! While browsing for a new addition to my collection, I found a couple Monster High Coffin Bean Monster High Dolls at Amazon.ca for just $9.99 each. You can purchase Monster High Coffin Bean Venus McFlytrap or Monster High Coffin Bean Twyla. Receive free shipping on orders of $25 or more or get free shipping with Amazon Prime.
Monster High Dolls under $10? I am sold! These awesome dolls are both from the same line - Coffin bean - and feature monsters needing their morning cup of java. Twyla looks to be drinking a hot chocolate (I see whip cream on the top) and Venus McFlytrap appears to be having tea. Each Monster High doll comes with an awesome outfit including belt, shoes, and bangles. I really like Venus's outfit as the vines go so well with her theme. Besides, pink and green is a great colour combo.

While I cannot find these dolls at any other retailers in Canada, I did compare prices to the cheapest Monster High Dolls you can find. The cheapest Monster High dolls @ Walmart Canada are on sale for $14 and the cheapest Monster high dolls @ Toys R Us are $19.99. As you can see, this is a sweet deal.
Now, Monster High Dolls aren't often below $10 unless they are on a steep sale. Trust me, these dolls did not start off at this price. They are actually listed at $12.99 USD = $16.92 CAN @ Mattel's own website. At Amazon.com, the cheapest Coffin Bean doll is still $12 USD (for Twyla) and over $17 USD for Venus.
Looking for a few Christmas gifts for your little monster lover? Then pick up a couple of these Monster high dolls for under $10. As they are of the same theme, these two dolls will make great companions when given individually or as a set. You get two dolls for under $20 when you would pay $20 for just one doll at Toys R Us.
(Expiry: Unknown)